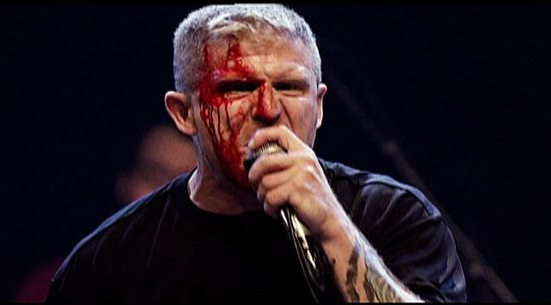 For the first time in their long and turbulent history, Boston's legendary hardcore pioneers SLAPSHOT will be gracing our shores in March for a run of six shows along the East Coast. We caught up with enigmatic frontman Jack "Choke" Kelly for a chat about what Australian crowds can expect..
Why has it taken so long for Slapshot to come to Australia?
Personally I've also wanted to go over to Japan and Australia. I'm all about travel and seeing new places and playing to new crowds, but we just never got it together with the right people I guess to get over there.
What lineup will be touring Australia and will people recognize members from any other bands?
Current lineup is John Bean on drums who played drums in a few bands over the years, most notably Bitter and Stars N Stripes. Ryan Packer is in Tenebrae with our guitar player Craig Silverman who played in Ramallah, Blood For Blood and Only Living Witness and of course myself of course on vocals.
What sort of a setlist can Australian fans expect? How much of "Back On The Map" gets a run these days?
Generally we play a lot off "Back On The Map" you know songs like "Chip On My Shoulder", recently we played "It's happening today" and that went down well. We tend to play songs that people want to hear and there are some albums you won't hear a single song from. Occasionally we'll throw something in we haven't played in a while to mix things up. We do have a new record coming out so we may play a song or two off that, but mostly it will be old songs that people will be expecting to hear.
Are you planning on packing the hockey stick for the trip?
No. Occasionally someone will bring one to a show that will end up on stage and I'll pick it up and usually wind up bleeding from it. But when I travel I don't want to pack it in my bags as customs will ask why I'm carrying one.
Slapshot have recorded a new song for the Australian tour titled "Everything Wants To Kill You". Would you rather take your chances surviving a shark attack or a crocodile attack in Australia? Why?
Probably a crocodile. I don't really go into the water much, so I'm not really concerned about a crocodile or shark. I don't go swimming. The last time I went swimming was 4 years ago and I live in a beach town. But I think I'd probably have a better chance against a crocodile as it would have to be on land.
You also recorded a Poison Idea cover of "Pure Hate" off the Pick Your King album. Would this be your fave Poison Idea song and album?
Yeah probably. I was thinking about doing an old classic Poison Idea cover so I went through all of their albums and I picked that one.
Did you ever get your banner back from this muppet in Florida?
Yeah we got it back, no big deal. You know. He seemed cool when we were down there and really enjoyed the show. But then ..Yeah.. Meh..
For Slapshot what separates a good show from an average one?
It's different for the other guys in the band. For me it depends on my mood and the mood of the crowd. Sometimes I've had more fun playing to a crowd of 20 to 30 people than I've had a terrible time playing to a packed house. Either way I try to put on the best show I can.
Slapshot is working on a new record. Any estimate on when it will be released and through what label? Taang perhaps?
No this one is not coming out through Taang this time. It will be handled by Brass City Boss Sounds out of Connecticut who will be doing both the new Slapshot and new Stars N Stripes records. We're hoping to have it out by the end of April.
In the early to mid 90's Slapshot ventured into hard rock territory with "Blast Furnace" and "Unconsciousness" before returning to the classic hardcore sound with "16 Valve Hate" & "Old Tyme Hardcore", why the shift in sound during that period?
Well you know after doing hardcore for a few years, everyone was starting to change and do something a little different. You think you're doing what's right, you think you doing what you're into at the moment. Everyone was listening to Soundgarden and Nirvana and the whole grunge thing was getting pretty big. I was really into industrial bands like Ministry. You know what you like to do is probably not what the band should be doing at that period of time and you sort of get out of your comfort zone and do some things that you're into at the time, but maybe some other people are not that into.
If you're a hardcore band just stick to what you know. For "16 Valve Hate" we got our original drummer back, Mark McKay and we thought let's just get back to doing hardcore and it's my favourite record. The new record is kinda along those lines too. A little more thought was put it into, more so than our last two records which I personally feel aren't that great. I blame myself for that. My hardcore heart wasn't into those records. There are some good songs on those records and a lot of people like them, but I just don't think they are that great.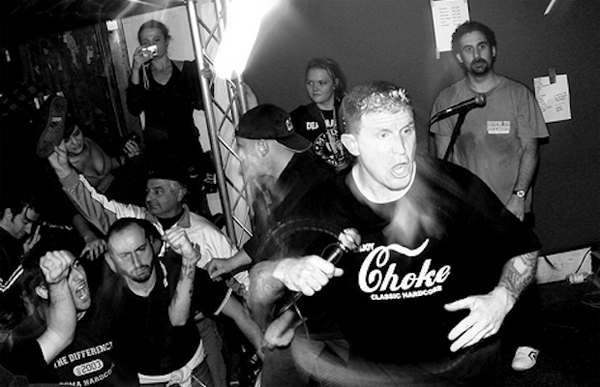 On "16 Valve Hate" you also cover a Smiths song. Are you a Morrissey fan and who are some of your favourite non punk/hardcore bands?
I actually saw the Smiths back in the 80s, but I wasn't a fan. When you're into the hardcore thing when you're young, you kind of devote yourself to only listening to that one style of music. I always appreciated bands like the Smiths or Depeche Mode and that whole new wave style, but I didn't really get that into them until much later when I broadened my horizons. I listen to a lot of the Smiths and if you really listen to the Smiths, there is a lot of heavy stuff in those songs, if you just play them heavy.
There is a version of "How Soon Is Now" we did way, way back floating around somewhere that is not that good. When we were recording "16 Valve Hate" we kind of suddenly decided to do "Big Mouth Strikes Again" and throw it together on the spot. A lot of the songs on that record were written in the studio on the day they were recorded. Was just one of those things were everything kind of came together on the day.
I don't really listen to a lot of hardcore to be honest. I listen to a lot of electronic music honestly. Drum n Bass, trance, my kid got me into dubstep, she is really into it, I'm not as into it but I figure it beats being into Beyonce or Bieber or something..
Which would be more likely, a Negative FX reunion or a Last Rights reunion?
More likely a Last Rights reunion as I like all those guys compared to Negative FX where I don't like some of those guys or really those guys like me a lot less.
What's the latest on the Slapshot documentary release? Is it ever going to see the light of day?
It's now out, you can order it online through Taang. More info over here.
What's your favorite exaggerated story that you've heard about yourself?
My wife would tell you about the time when I wanted to ask her out and she heard I got the name "Choke" because I strangled my ex-girlfriend to death. It's amazing to me, like why aren't I in gaol if I did such a thing? I think that one stands out the most for me.
Have you ever been to Australia before? Any sight-seeing you want to do?
No I've never been before. Honestly I'm kinda a city person so I'm looking forward to seeing the cities. I'm not that into the beach or the wilderness. We went down to Santiago, Chile and I spent a lot of time in Starbucks. I don't know if there are touristy things planned I'll go along with it and take a couple of pictures. But I'm more into the cities and just doing general stuff around the cities.
Any final words or message?
We're finally really looking forward to getting down there. We plan to put on absolutely the best show we can. We hope to show the young-uns there, what hardcore is all about. Better late than never. Thank you very much and see you in Australia soon.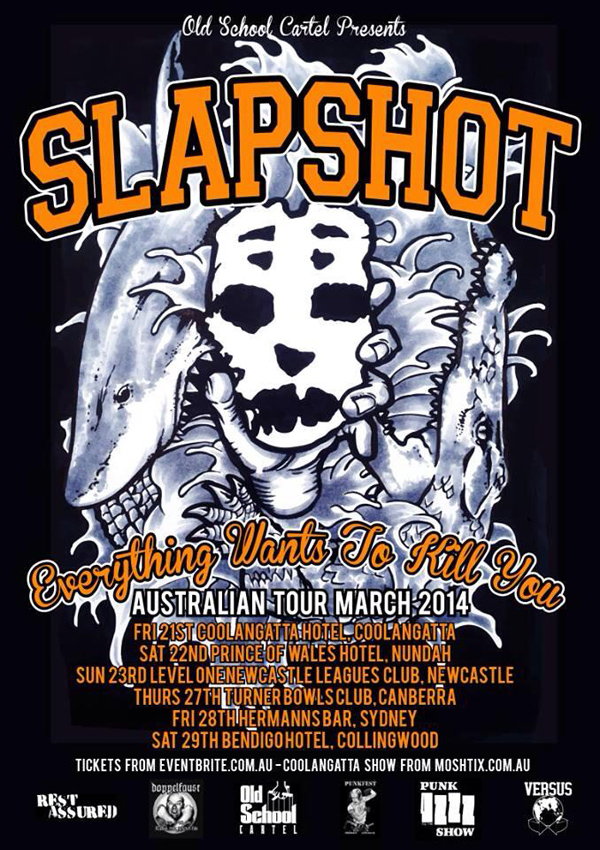 SLAPSHOT "Everything Wants To Kill You" Tour

Friday March 21st Gold Coast
@COOLANGATTA HOTEL
w/
DRIVEN FEAR
LOST CAUSE
SHACKLES
BITTER LUNGS
Saturday March 22nd Brisbane
@PRINCE OF WALES HOTEL - NUNDAH
w/
PLAN OF ATTACK
MOUTHGUARD
SICK PEOPLE
BASTARD'S LUCK
Sunday March 23rd Newcastle
@ NEWCASTLE LEAGUES CLUB
w/
TAKEN BY FORCE
MARK MY WORDS
HAZARDS
DEADLY VISIONS
HURT UNIT
TWO FACED
CHOKE
THROUGH AND THROUGH
Thursday March 27th Canberra
@TURNER BOWLING CLUB
w/
TOE TO TOE
RUCKUS
BLADDER SPASMS
THE FUCKOUTS
EYE GOUGE
Friday March 28th Sydney
@HERMANNS BAR – SYDNEY UNIVERSITY
w/
TOE TO TOE
HOSTILE OBJECTS
CROWNED KINGS
STRAIGHT TO A TOMB
STREET WAR
Saturday March 29th Melbourne
@BENDIGO HOTEL
w/
GRIM REALITY
CROWNED KINGS
DECLARATION
JOIN THE AMISH
TAKEN BY FORCE
COLD GROUND
RUST PROOF
IMPACT ZONE
Click here to join the Facebook event page.
https://www.facebook.com/SlapshotBoston
https://www.facebook.com/OldSchoolCartel