Sydney's Endless Heights are aset to release their debut album, New Bloom on the 15th November just in time for their national tour alongside US band Daylight. Jasper Caverly caught up with frontman Joel Martorana for a chat.
Hey Joel, What's up?
Hey! Working as an intern and finishing up with uni for the semester. Not too much else apart from that at the moment haha, except for getting the new songs together for the Daylight tour.

Ready for your tour with Daylight? Nervous? Excited?
Really excited for this one, first heard of Daylight in 2009 when they came out and have been a big fan since, so keen to see them live again after they've been on the road the past few years. I'm really excited too about playing some of my favourite songs from our new album.

How did you come about forming Endless Heights back in '09? What kind of bands influenced you to drift toward the 'melodic hardcore' sound?
To be honest I can't remember the exact moment when we made the decision. We were leaning towards it for a little while, and all that comes to mind really is the massive list we made as a band with name ideas, I think we ended up combining half the name of two separate ideas to come up with 'Endless Heights'.

'New Bloom' your debut full length drops November 15th, a few days before the tour, are you happy with how the album turned out?
Could not be happier. This album still surprises me every time I listen to it, and I'm really grateful and excited about it. Also, Its actually the first time I've ever listened back to my own voice on a recording of any kind and actually liked it 100%. Super grateful for Clay and the guys at the Brain for really bringing out the ideas behind this, mainly because we had never tried a lot of stuff quite like this - I've never sang in ranges this low in some of the songs, or really ever sang a song start-to-finish like I do in some of the new tracks.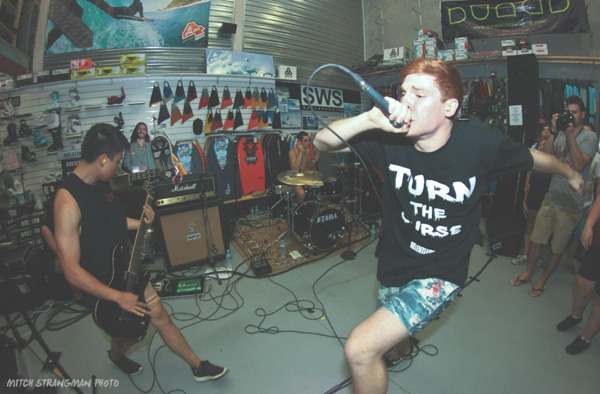 Why the change in musical direction? From the tracks and info already released it sounds like you've taken a new approach to EH, focusing more on the melodic guitars rather than the 'heavier riffage' on 2011's 'Dream Strong'.
Yeah I guess some of the heavier sounds have changed quite a bit, but I haven't really thought about it much to be honest because I just think the new stuff is better. I love Dream Strong, but to me New Bloom is on a whole different level. Few things led to the change but I guess we just felt like this is what we wanted to do, and to be honest this is the sound I think we have always been working towards but weren't ready to write or play until now - I know I wouldn't have been confident singing like this a year ago, but by the time the songs were coming together, everything kind of begun to fall into place and for me anyway, I realised we could pull it off.

You recorded the album in 'The Brain Studios' with producer Clayton Segelov and it was produced over in the US by Will Yip (Title Fight, Blacklisted, Daylight). How was it working with Clayton and do you think the future Endless Heights will ever work with Will in the states?
Best thing about Clay was that he wasn't afraid to let-you-go-there with an idea, and once he'd catch a glimpse of what we were trying to do, he would really work hard with us to get it to its best, or even close the door on it if it wasn't quite there. I really needed this and that was really good for my confidence in the studio, I felt free to try anything and knew that if it wasn't up to scratch, Clay would call it out. I would love to work with Will in person, I think he brought the record together in the best way. Hopefully we can pull the cash together and make something with him soon enough!
With masses of people choosing to download music for free, just how important is it for bands to sell merchandise/copies of their music? Would you say it makes up the majority of the band's profit?
I guess it depends how big the band is. For us its always been through merch and people coming to see us live. I'd like to think that whoever does download the album for free though will buy something from us if they like record. But yeah selling merch is everything to bands (or new/small bands at least) - from covering some petrol costs to some of the recording costs, its the best way to finance other expenses we come across.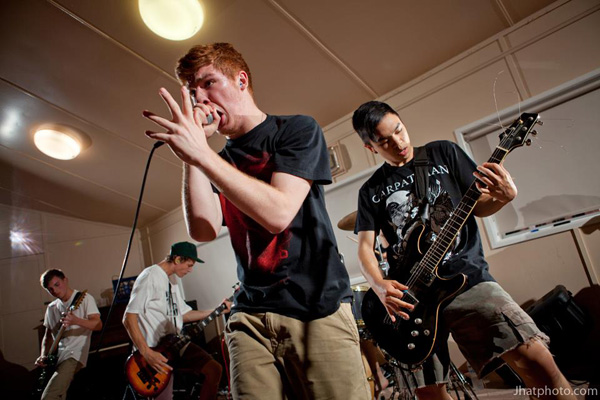 How does it feel to be going on tour again? Your last national tour was in January with Northlane, around ten months ago. What have you been busy doing?
Haha the album has taken up most of our time, and we decided to lay low for a little while until it was ready to get it out there. We learnt a while ago that 'less is more' with playing shows and posting heaps of updates all the time, and we didn't want to overdo it before this album came out. So good to be going on tour again, we have been starving for it and keen to do it as much as we can now that this record will be out.

Best and worst thing about touring? Best/worst people to be on tour with?
Best thing is that at least 50% of the day is a completely new experience in some way - whether its new people, food, locations, bands its so much fun and exciting to do new things with your best mates. Absolute worst thing is when my voice blows out or starts to feel really tight from lack of sleep and exhaustion, haven't had this problem for ages though. Jhat is the only person that can be really painful to tour with that comes to mind haha, anyone/everyone else is fun.

Guilty pleasure band/artist?
Good Charlotte - The Young and the Hopeless... But there is no guilt!
Tracks/Album that will be on repeat in the tour van this November?
The Others - Red Eyes, Citizen - The Summer... Heaps of others I can't really think of so; something Triple J from Chich, some crazy doof beats from Matty J, Diaz will be air-drumming to metal and I will probably be playing everything by The Story So Far.
Tips for people starting up a new band? How can small acts get recognised?
Play music you like that you don't think is done enough, keep your songs short and to-the-point, and go to local shows to hang out with whoever is there and support bands of all sizes that you like and hopefully you will get to play a show with them.
Any last words? Future of Endless Heights?
Hopefully some tours overseas! Check out all the supports on the Daylight tour, especially Harbourer and Postblue.

Pre-orders and limited bundles are available now at www.store.brokenhiverecords.com