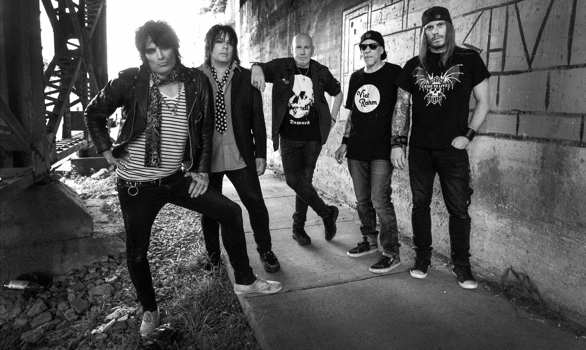 Dead Boys announce their first ever Australian Tour. The Cleveland Ohio punk band were among the first wave of punk, and regarded by many as one of the rowdiest and most in your face groups of the era. This is one show not to be missed. Full tour details below.
Dead Boys were formed by vocalist Stiv Bators, rhythm guitarist Jimmy Zero, bassist Jeff Magnum, lead guitarist Cheetah Chrome and drummer Johnny Blitz in 1975. The original Dead Boys released two studio albums, Young, Loud and Snotty and We Have Come For Your Children.
The Dead Boys were initially active from 1975 to 1980, briefly reuniting a few times in the mid-1980s, and then later again in 2004 and 2005 for the first time without Bators, who had died in 1990. In September 2017, Chrome and Blitz reunited the band with a new line-up for a 40th anniversary tour along with a new album, Still Snotty: Young, Loud and Snotty at 40, a re-recording of their debut album. The new lineup includes vocalist Jake Hout, guitarist Jason "Ginchy" Kottwitz and bassist Ricky Rat, alongside Chrome and Blitz.
"The brutality and energy are all intact, but with more polish, and singer Jake Hout remarkably re-creates Bators' post-Alice Cooper snarl."
Moving to New York City at the encouragement of Joey Ramone, the Ramones' lead singer, the Dead Boys quickly gained notoriety for their outrageous live performances. Lewd gestures and profanity were the norm. On more than one occasion, lead singer Stiv Bators slashed his stomach with his mic stand. Such antics reportedly discouraged the development of a mainstream rock following, despite the relative breadth of their material beyond pure punk.
They frequently played at the iconic club CBGB (the band was briefly managed by club owner Hilly Kristal)and in 1977 they released their debut album, Young Loud & Snotty, produced by Genya Ravan. Their song "Sonic Reducer" is often regarded as one of the classics of the punk genre, with Allmusic calling it "one of punk's great anthems."
Their second album, We Have Come For Your Children, produced by Felix Pappalardi, was recorded in Miami in early 1978 and released later that year. Sire Records pressured the group to change their look and sound to appeal more to the U.S. mainstream (which had yet to embrace punk on the level seen in the UK) and this contributed to Dead Boys breaking up in 1979.
Bleed Records Presents
DEAD BOYS 2023 AUSTRALIAN TOUR
Thursday March 23rd - The Zoo, Brisbane.
Friday March 24 - The Bridge Hotel, Sydney.
Saturday March 25 - The Corner Hotel, Melbourne.