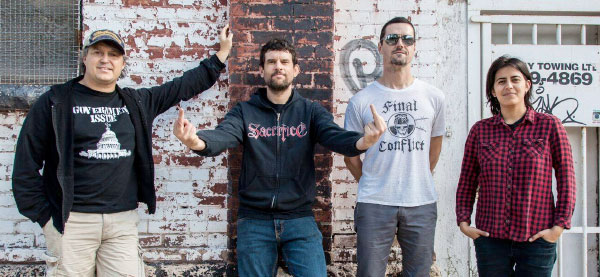 Get ready to stomp your feet in the pit and raise your fists in the air, Canadian political punks, Propagandhi have just announced a run of shows across Australia and New Zealand!
The first thing to know, if you want to know about Propagandhi, is that they came here to rock. Right from the snarling opening riff of their seventh album, Victory Lap, that much is clear. For everything else that swirls around the band now, and for the last 31 years — the politics, the people and, lately, a gnawing sense of despair — the sheer volume of it all hasn't changed.
It's Propagandhi's uncompromising standpoint on politics (and as artists) that make their catalogue of albums so interesting. Their intelligent lyrics and honesty, matched by an impressive level of musicianship have been core staples from day one, but it was when they scrapped their ska-dominated aesthetic for a razor-sharp sound of thrashy guitars set to breakneck speeds, and the metal influence lending a hand that really took the band to new levels artistically.
So what do you do when you're an unapologetically political band in a time when political speech seems more fractured than it has been in years? When the darkness looms and the rapacious maws of power seem to devour more by the day? You can't stop the violence; you can't save the world. But neither can you stand to sit back, and just watch it all burn. So here's what you do: you strap up a guitar and get ready to rock.
Thursday 9th May – Meow, Wellington
Friday 10th May – Galatos, Auckland
Sunday 12th May – The Gov, Adelaide
Tuesday 14th May – Triffid, Brisbane
Friday 17th May – Max Watts, Melbourne
Saturday 18th May – Metro Theatre, Sydney
Sunday 19th May – Cambridge Hotel, Newcastle
EXCLUSIVE FAN PRE SALE BEGINS: Wednesday 14th November 9am AEDT
TICKETS ON SALE: Friday 16th November 9am Local