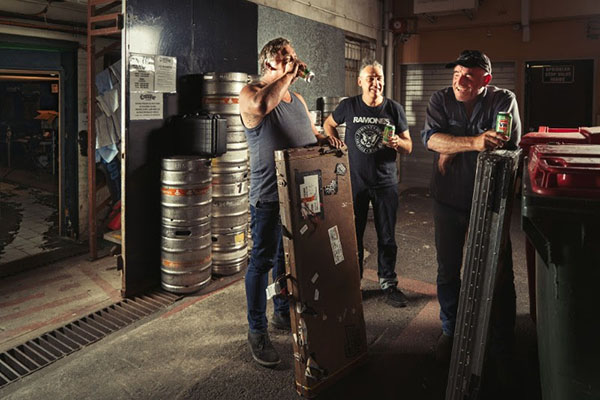 If ever there was a pairing more perfect or written in the stars than COSMIC PSYCHOS , PIST IDIOTS and UTE ROOT, we'd like to see it. Synonymous in name and naughtiness, the Psychos will take the ever-exciting Idiots and friends Ute Root on tour with them this October/November, storming through six East Cost locations on the one lap.

Following the release of their album Loudmouth Soup and subsequent 30-date national tour in April, the band that shaped the slacker rock landscape as we know it aren't slowing down any time soon. They're just released a fresh single Dogshit, and are gearing up to visit Brisbane, Sydney, Melbourne, Belgrave and Frankston on this particular dalliance, and as always have hand-picked some of the finest and FUNNEST bands out to join them on stage.

Four childhood mates from West Sydney, Pist Idiots signed up for a Battle Of The Bands as a gag but later conceived a fully fledged, vaguely functioning rock band in their garage. They've since toured with some of Ausrock's best bands. Ute Root have been doing burnouts in their native Melbourne for a while, but are ready to bring their junkrock anthem Ketamine Queen to the masses. Armed with 70s sass and a fire in their bellies, they round out a ripper run that shouldn't be missed.
COSMIC PSYCHOS EAST COAST TOUR OCT/NOV 2018
with special guests Pist Idiots and UTE ROOT

Saturday October 27
Crowbar, Brisbane (Evening)

Sunday October 28
Crowbar, Brisbane (Arvo)

Saturday November 3
Pier Hotel, Frankston (Evening)

Monday November 5
Sooki Lounge, Belgrave (Evening)

Tuesday November 6
Corner Hotel, Melbourne (Cup Day Arvo)
w/ CIVIC

Saturday November 10
The Lansdowne, Sydney (Evening)

Tickets on sale now from cosmicpsychos.com.au