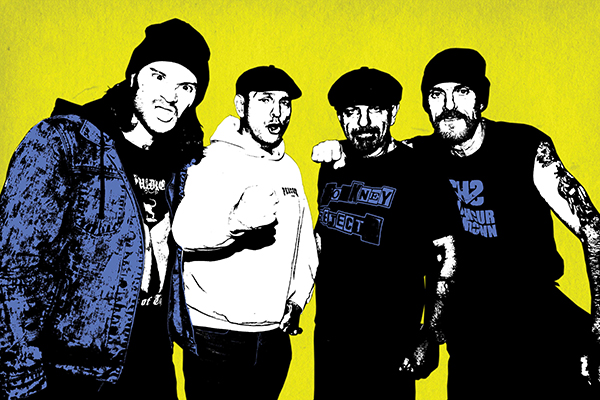 The rough-and-tumble COCKNEY REJECTS, will be bringing their unique brand of authentic punk rock to Australia for the First Time Ever
Formed in the East End of London in 1979 the pioneers of the Oi! music genre The Rejects will play highlights from their entire career including "Fighting In The Street", "The Greatest Cockney Ripoff", "I'm Not a Fool", "Bad Man", "War on the Terraces", "Police Car", "Bubbles" (a tribute to their beloved West Ham United) and their iconic, genre-inspiring jam "Oi! Oi! Oi!"
The band are known throughout the land for their in-your-face live shows, something Australia fans can now finally experience. Flanked by his brother Mick, Front man Jeff Geggus barks and snarls his call-and-response with the crowd, leading audiences through a raw and engaging show. "This band knows how to Punk" is the sentiment of many, with those who have seen them perform tagging them as one of the best punk bands to see live today, brimming with punk rock history and culture.
The Rejects were immortalised in the 2012 film East End Babylon. The documentary delved into one of London's toughest and poorest neighbourhoods, telling the gritty story from the perspective of the regions more iconic act – The Rejects, of course. From the bomb sirens of World War II, through to the cities places a key economic hub, East End Babylon masterfully allows an experience felt by few, to be felt by many. The band released an album of the same name to soundtrack the film also in 2012.
Sweaty, greasy and always the toughest guys in the room, The Rejects hark back to the days of punk before tight jeans, eye make-up and hair straighteners. With the world heading to hell in a handbasket, we need The Rejects, and the hard home truths they shout in our faces, now more than ever.
February 2019 Tour Dates
Thursday 21st - Melbourne – Corner Hotel
Friday 22nd - Sydney – Factory Theatre
Saturday 23rd - Brisbane – The Zoo

Pre Sale Begins Friday 27th July
Tickets On Sale Monday 30th July
Get Your Tickets
https://metropolistouring.com/cockney-rejects/