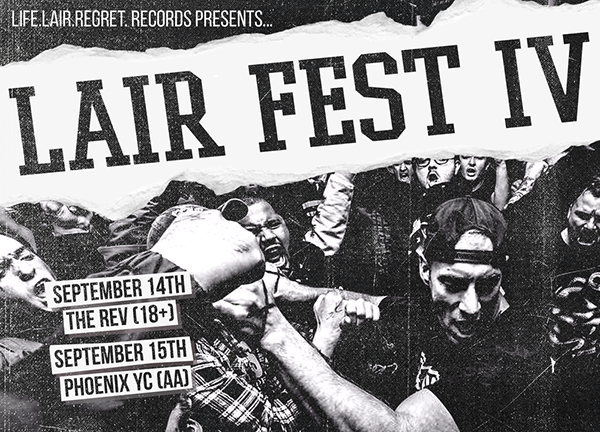 Lair Fest 2018 will return to Melbourne in September for it's fourth annual outing.
Life.Lair.Regret. Records is proud to present:
The Fourth Annual LAIRAPALOOZA.
LAIR FEST 2018
This year we're running the fest over two shows - Friday September 14th at the Rev (18+) and Saturday September 15th at Phoenix YC (all ages).
We've put together a lineup of 5 local bands, 5 inter-state bands and 2 internationals.
Tickets are available now at: https://lifelairregretrecords.bigcartel.com/product/lair-fest-iv-tickets
Featuring…
DAY 1 - FRIDAY SEPTEMBER 14TH
TRAIL OF LIES (USA)
BIND (USA)
BREAK THROUGH (TASMANIA)
EXCARNATE
CAGED EXISTENCE
MERE FLESH
@ The Rev, Footscray
Doors at 8pm 18+
Presales tickets available now for $30
Tickets on door $35
DAY 2 - SATURDAY SEPTEMBER 15TH
TRAIL OF LIES (USA)
OUTRIGHT
PRIMITIVE BLAST (QLD/NSW)
ENGAGE (WA)
EMPOWER (QLD)
DEATHBED (QLD)
CRUSH THE DEMONIAC
BOUNDLESS
@ Phoenix Youth Centre, Footscray
Doors at 2pm
ALL AGES, ALL WELCOME
Presales tickets available now for $30
Tickets on door $35
There are limited 2 DAY passes available for $50 - please note that you must be over 18 to purchase this pass as the Friday night show is exclusively 18+.
More information about the event will be announced closer to the date.
We acknowledge this show will be on the stolen land of the Wurundjeri people, sovereignty never ceded.