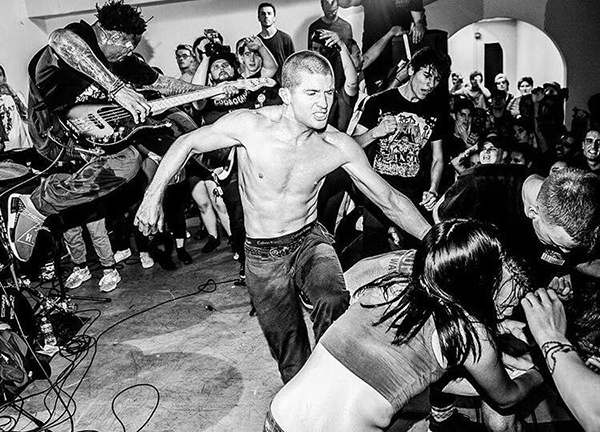 Turnover have been leading the charge in the emotionally driven shoegaze world since their 2015 release Peripheral Vision, solidifying this acclaim with their critically acclaimed 2017 release Good Nature; wowing fans and critics the world over with their intricate song stylings and lyrical storytelling. Now Australian fans have the chance to experience Turnover's Good Nature as they announce their return to our shores for a run of shows across both sides of the country.
As for their latest album, vocalist and songwriter Austin Getz doesn't blink when asked to sum up Good Nature."Learning" he replies. "This whole record is about learning. Opening your eyes to new things, going outside of your comfort zone, and learning to grow into something new."
Joining Turnover on this run of Australian shows is Baltimore outfit Turnstile, which Noisey recently commented on saying "…(Turnstile) has positively exploded, moving from exciting prospect to one of the most talked about bands in hardcore". Turnstile recently released their new single Real Thing, which as frontman Brendan Yates explains, "'Real Thing' is about the idea of happiness being made up in the imagination. The way you imagine perfection from your past can blind you to real beauty and life right in front of you, resulting in a circle of discontent."
Between Turnstile's raw energy, and Turnover's powerful emotion, this is a show that fans won't want to miss.
Turnover 'Good Nature' Australian Tour March 2018
with special guests TURNSTILE
Presented by Destroy All Lines, Chugg Entertainment and Resist Records
Dates:
Monday 5 March - Woolly Mammoth , Brisbane 18+
Get ? http://bit.ly/TUR18bris
with Endless & Bloom Parade
Wednesday 7 March - The Small Ballroom, Newcastle 18+
Get ? http://bit.ly/TUR18newc
with Jacob & Rage
Thursday 8 March - The Factory Theatre, Sydney LIC AA
Get ? http://bit.ly/TUR18sdny
with Oslow & Homesick
Friday 9 March - UOW UniBar, Wollongong 18+
Get ? http://bit.ly/TUR18gong
with Blue Velvet & Whatever, Forever
Saturday 10 March - Corner Hotel, Melbourne 18+
Get ? http://bit.ly/TUR18melb / http://bit.ly/TUR18mlbn
with Neighbourhood Youth & Broken
Monday 12 March - Enigma Bar, Adelaide LIC AA
Get ? http://bit.ly/TUR18adel / http://bit.ly/TUR18adle
with Sleep Talk & Towns
Tuesday 13 March - Amplifier Capitol, Perth 18+
Get ? http://bit.ly/TUR18pert
with Flowermouth & No Brainer