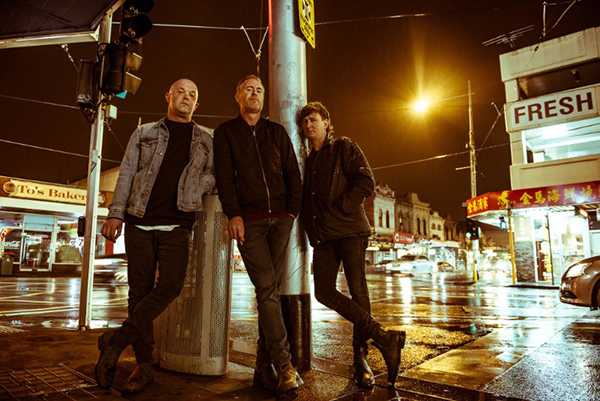 Australia has a happy knack of throwing up oddball, idiosyncratic bands that initially appear limited by an inability or unwillingness to fit into the cookie cutter yet, in time, find fans enough to lift them to cult hero status. Apart from just being a red hot rock band, it's that character that propels The Peep Tempel and adds flesh to their tales of disaffection blues.
The year of 2017 has seen the band take stage across Australia, celebrating the release of their third critically acclaimed album Joy. After their performance at Golden Plains this year The Guardian declared, "in the wake of their now-anthem Carol, the suspicion is that until you can scream "I don't think Trevor is good for you, Carol" with 10,000 others, you haven't lived". Last month Rolling Stone heralded them as "Melbourne's most dangerous band", after their "stabbing punk rock" set at Splendour in the Grass.
Now after nine years performing live and producing three acclaimed studio albums, The Peep Tempel announce a final run of national dates before entering a period of hiatus. These performances kick-off this weekend in Perth, with two shows alongside The Victims, reformed by original members Dave Faulkner (Hoodoo Gurus) and James Baker (The Scientists) along with Ray Ahn of the Hard-Ons, before ending at the Forum Theatre in Melbourne on November 3.
The Peep Tempel's live show is unparalleled, their sets are unrivalled in intensity and incredibly cathartic. These shows will be totality.
Outside of an array of weird and utterly wonderful hand-picked local supports, attendees to this tour will be treated to the tense and terse sounds of BATPISS. If you missed their stunning, bleak LP 'Rest in Piss', its been disrupting community radio stations nation-wide thanks to Poison City Records since July, now is the time to make that right. Truly one of the only local acts to match the bold, oddball power of The Peep Tempel. Haunting, dissonant, confrontational, and entertaining as hell.
Saturday October 14
The Edinburgh Castle, Adelaide
with Glass Skies

Thursday 19 October
The Northern, Bryron Bay
with Batpiss & Mini Skirt (Free)

Friday 20 October
Miami Tavern, Gold Coast
with Batpiss & Liquid Face

Saturday 21 October
The Foundry, Brisbane
with Batpiss & Ella Fence

Friday 27 October
Proud Mary's, Central Coast
with Dumb Punts, White Blank, Dazed & Pickle Rick

Saturday 28 October
Bald Faced Stag, Sydney
with Batpiss & Scabz

Friday 3 November
Forum Theatre, Melbourne
with Batpiss