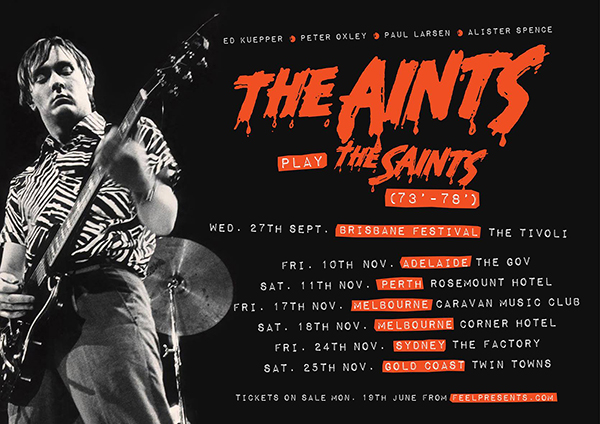 The success of Ed Kuepper's largely sold-out Solo & By Request national tour has been carried over into The Aints Play The Saints ('73 - '78) national tour - also featuring Herr Kuepper - with the news that their November show at Melbourne's Caravan Music Club has now exhausted it's ticket allocation. The all standing show at the popular soon-to-close Oakleigh venue joins Sydney's The Factory as a pre-tour sell-out.

But don't panic! Tickets (although limited) remain for The Aints Play The Saints other Melbourne show; November 18th at the Corner Hotel, as they do for all other shows.

But wait, there's more! Due to demand Sunday 26th November has been set aside for a performance at iconic Queensland venue Aussie World on the Sunshine Coast. Tickets on-sale Friday 1st September via aussieworld.com

And in related news all support acts have now been confirmed and include appearances by Harry Howard, Mick Medew, The Breadmakers and The Living Eyes. Full details below.
---
On the 40th anniversary of the release of The Saints' classic album '(I'm) Stranded', founding member, guitarist and songwriter Ed Kuepper will revisit the material performed by that seminal Australian band.
Originally spawned in the early nineties, The Aints sought to bring justice to the sound and attitude of the original Brisbane-based band, capturing their energy and iconic onstage presence.
Alongside bassist Peter Oxley (Sunnyboys), drummer Paul Larson (The Celibate Rifles), keyboardist Alister Spence and a guest brass section, The Aints 2.0 will perform songs that spanned their three ground-breaking albums: the proto-punk classic '(I'm) Stranded' (1977), the hugely influential 'Eternally Yours' (1978), and the genre-defying 'Prehistoric Sounds' (1978).
"I don't think that anyone, myself included, would have thought that this material I wrote when I was starting out would still have currency after all this time....but here we are celebrating it's 40th anniversary. I'm actually pretty chuffed about doing it and have got a top notch band together to play the stuff." - Ed Kuepper
"the first two Saints albums are brilliant records -- if you listen to them, they're not a punk-rock band, they're like a really souped-up garage-rock band, toss in some horns-- that's some pretty interesting stuff." - Keith Morris (Black Flag / OFF!)"
Dates:
Wednesday 27th September 2017
The Tivoli, Brisbane Festival

Friday 10th November 2017
The Gov, Adelaide SA
with guests Harry Howard & The NDE

Saturday 11th November 2017
Rosemount Hotel, Perth WA
with guests Big Boss Man + DJ Nick Sheppard

SOLD OUT - Friday 17th November 2017
Caravan Music Club, Oakleigh VIC
with guests The Breadmakers

Saturday 18th November 2017
Corner Hotel, Melbourne VIC
with guests Harry Howard & The NDE & Living Eyes

SOLD OUT - Friday 24th November 2017
Factory Theatre, Sydney NSW
with guests Harry Howard & The NDE & The Holy Soul

Saturday 25th November 2017
Twin Towns, Gold Coast QLD
with guests Mick Medew & The Mesmerizers

Sunday 26th November 2017
Aussie World, Sunshine Coast QLD
with guests Mick Medew & The Mesmerizers
Tickets aussieworld.com On Sale 1st September

Tickets on sale now from feelpresents.com