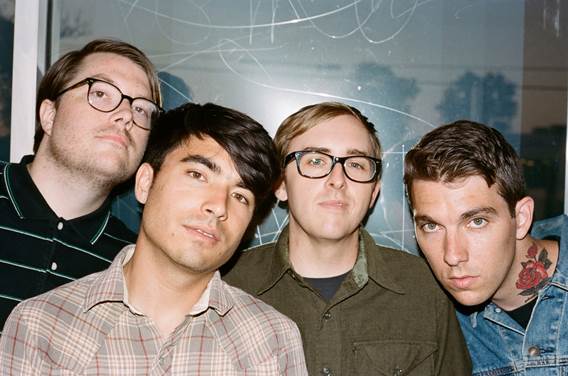 From enormous festivals to stageless squats and dive bars all around the world, The Smith Street Band have seen it all and they've poured those experiences into their boldest and most ambitious release to date. Today the band announce that they'll take their fourth album, More Scared Of You Than You Are Of Me on the road around Australia from May, and they're bringing explosive Californian pop-punks Joyce Manor, Melbourne mates Ceres and indie-pop sensation (and USA SideOneDummy label mate) Allison Weiss with them.
Acclaimed Los Angeles band Joyce Manor - Barry Johnson (vocals and guitar), Chase Knobbe (guitar), Jeff Enzor (drums), and Matt Ebert (bass) - have announced they will be supporting The Smith Street Band on their "More Scared Of You Than You Are Of Me" national tour. Joyce Manor will tour in support of their recently released fourth album Cody.
Produced by Rob Schnapf (Elliott Smith, Cass McCombs, Kurt Vile, Guided by Voices), Cody arrives as the follow-up to Joyce Manor's watershed 2014 album Never Hungover Again. In making Cody, Joyce Manor explored more inventive arrangements and emotionally raw songwriting than ever before, ultimately creating their most powerful but intensely vulnerable album yet.
Pool House Records, Jackknife Music & triple j present
THE SMITH STREET BAND
"MORE SCARED OF YOU THAN YOU ARE OF ME" AUSTRALIAN TOUR

with special guests
JOYCE MANOR (USA), CERES, ALLISON WEISS (USA)

Thu 25th May – Odeon Theatre, Hobart (Lic. AA)
Fri 26th May – Enmore Theatre, Sydney (Lic. AA)
Sat 27th May – The Tivoli, Brisbane
Sat 3rd June – Forum Theatre, Melbourne
Fri 9th June – Metro City, Perth
Sat 10th June – Thebarton Theatre, Adelaide (Lic.AA)
TICKETS ON SALE now from www.thesmithstreetband.com
Melbourne & Sydney Joyce Manor headline shows just announced!! Tix on sale now!
Mon May 29th – Hamilton Station Hotel, Newcastle
w/ Oslow & carb on carb
TIX: https://goo.gl/ikRYdK