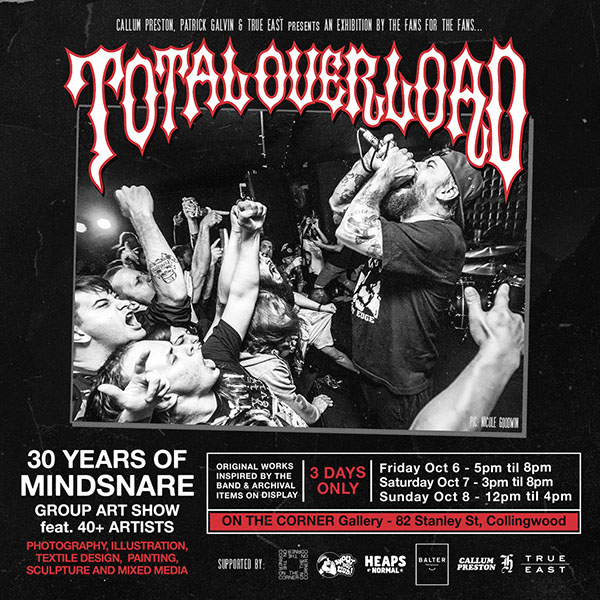 To coincide with Mindsnare's 30 year anniversary shows in Melbourne, we are proud to announce Total Overload; a group art show of Mindsnare-inspired works by over 40 Australian artists.
With the blessing of Mindsnare, Total Overload is organised and curated by Callum Preston & Patrick Galvin as a "for the fans, by the fans" initiative. As creatives, Preston & Galvin wanted to recognise the impact and influence of the band. 30 years of being a band is a massive achievement, and as tribute, artists from all over Australia, across a variety of mediums, have made the time to produce amazing, Mindsnare-related works; all for sale at the show. The exhibition will also feature personal archival items from the band.
Opens Friday, Oct 6th, 5-8pm
Saturday, Oct 7th, 3-8pm
Sunday, Oct 8th from 12-4pm
On The Corner Gallery: 82 Stanley St Collingwood.
The show is made possible with the support of @otcbytrueeast @shoutoutloudprint @balterbrewers @heapsnormal @callumpreston @hollowbonesco