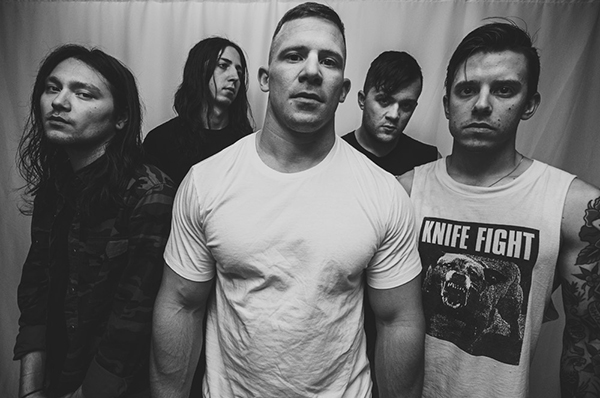 Harm's Way will release "Common Suffering" through Closed Casket Activities on September 26th.
Despite Harm's Way's reputation for unrelenting brutality, Common Suffering surprises at several turns with quieter moments of well thought out songwriting that emphasize light and shade. It's their understanding of how to effectively orchestrate these dynamics that makes an already ironclad record feel infinitely more merciless. This is Harm's Way at the top of their game – the ambitious sound of a band traversing new ideas. "We really tried not to settle on parts," recalls guitarist Nick Gauthier. "Sometimes a direction that we could have taken in a song felt too obvious… We would just troubleshoot that until we felt creatively satisfied with the direction we were taking."
The key to the success may be a shift to recording at Studio 4 in Pennsylvania with producer Will Yip (Turnstile, Nothing). Going into the recording, the goal was to improve some of the band's processes, examine vocal cadences and experiment during production to gain the best idea from each track. The first change dealt with refocusing members on their specific wheelhouses. While Pligge had previously assisted with riffs, on this effort, his main objective was to ensure the perfect vocal attack- leaning into Yip for advice and letting the remainder of the band take the wheel with their respective parts. The result is each player pushing to the far reaches and creating material that has previously never been colonized by any band, or hardcore writ large, before.
The title Common Suffering is a clear nod to the collective experiences of the past three years of chaos, misanthropy, paranoia, disorder, confusion and anxiety, with the band exploring themes ranging from personal struggles with mental health, relationships, political upheaval, corruption, and political power. Pligge digs deep into these subjects such as the track "Cyanide," which examines the expansion of media outlets, the correlative rise of disinformation, and the pervasive impact it has on people's lives and systems of power. Additional tracks include "Devour," which examines the impact of toxic people in one's life, the highly personal "Hollow Cry," where Pligge explores his own humanity and relationships, and the somewhat improbable "Undertow," which features the haunting vocals or Kristina Esfandiari–AKA King Woman–who adds a whole new dimension to the record and helps exhibit the band's willingness to push into uncharted territory.