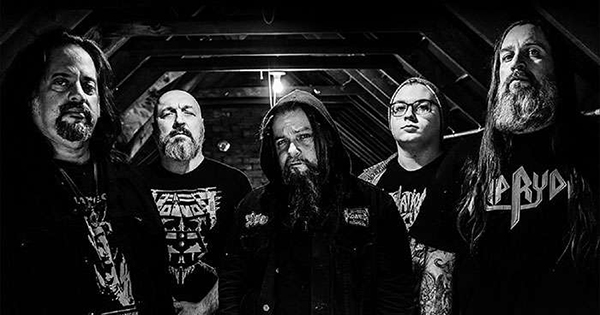 Something brutal is coming. Amidst a resurgent, tonal wave of aggression taking place in metal, Cleveland-bred pioneers of extreme atrocity Ringworm have risen. Decades into their influential career, the band has announced their signing to Nuclear Blast Records with plans to release their most vicious record in decades, Seeing Through Fire, on August 18th.
Commenting on the band's signing to Nuclear Blast, founding vocalist Human Furnace says:
We couldn't be more excited, really. Getting out to a larger audience is always the goal. And after a career as long as ours, you really appreciate your opportunities when they come to you. The chance to reach out to a globally larger metal scene, is always what the doctor ordered. NB gives us reach that we haven't had over the years and we're definitely fired up.
On the new record, he had the following to share:
We're pretty pumped on 'Seeing Through Fire.' It's a total burner. It's a straight forward, "smash your face and leave you layin there wondering what you got hit with" type record. We've never felt the need to "re-invent our own wheel" but going into this one we tried some different things sonically, and we're very happy with the results. Of course, it's the intention, every time we record a new record, but we feel like the over-all sound, feel and aggression of 'Seeing Through Fire,' one ups many of our past records. Which, for anyone that knows our catalog, is not always an easy task. With every new record, you have to dig deeper.
With this to say on latest track...
"'Thought Crimes.' Speed. Aggression. Attack. All the things that come to mind, sonically, when I think of this song. It's a manic song. It makes you move. Lyrically, it's not a political song. It's about trying to have your own thoughts amongst an ocean of controlled marketing, algorithms, and forced tribalism. It's a natural emotional response to being sculpted, directed, and sometimes, ordered, to believe in one thing or the other."
The band has revealed the record's first single, a no holds barred, furious neck-snapping track called "No Solace, No Quarter, No Mercy" that lays the groundwork for the impending brutality.
Speaking on the new single HF added:
There's A LOT of crushers on the new one, so it was hard to pick one as a single. But we finally settled on 'NO SOLACE, NO QUARTER, NO MERCY.' It's got hooks, beat downs, head bangs, thrash.... Over-all a pretty good taste of what you're gonna get from the new record and RINGWORM, in general. This one, delves into the endless conflict that we never seem to be free from. The constant outward, internal, mental and physical assaults that shape our lives, test our endurance, push our limits and challenge our breaking points.