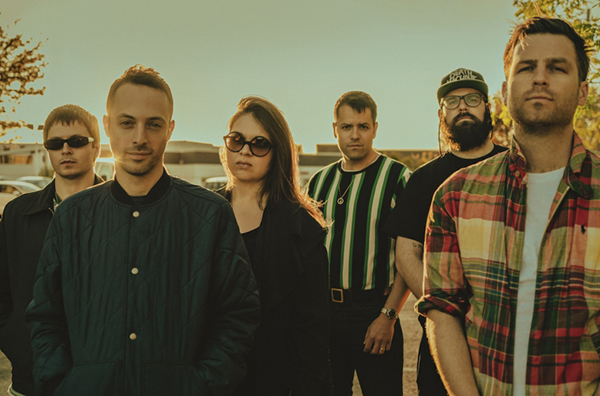 Canadian hardcore legends Fucked Up announce their new album, One Day, out January 27 on Merge Records. Pre-order the album now on CD or LP (available both on limited-edition blue jay in milky clear Peak Vinyl or standard black) in the Merge store and participating independent record stores. Today, Fucked Up present One Day's title track and accompanying video.
One Day is one of the most energizing and intricate albums of the band's entire career, a massive-sounding record that arrives in deceptively small confines. Fucked Up have been known for their epic scale in the past, from towering concept albums to 12-hour performances—so it might be a surprise that their sixth studio album is their shortest to date, written and recorded in the confines of one literal day (hence the title). Don't mistake size for substance, though: The band's sound has only gotten bigger, more hard-charging, with even denser thickets of melody. If that sounds like a study in contrasts, well, that's Fucked Up for you—and you shouldn't expect, or want, anything different.
"I wanted to see what I could record in one day." That singular idea came to mind for guitarist Mike Haliechuk in the closing months of 2019, and it forms the ideological and structural backbone of One Day. Haliechuk got himself into a studio and proceeded to write and record the record's ten tracks over three eight-hour sessions, reconnecting with the core of his and the band's songwriting essence in the process. "After you've been in a band for this long, you lose track of what your sound actually is," he explains. "Twenty-four hours can feel like a long time, but you can get a lot done then, too. It can feel like forever and one minute at the same time. If you work on something for one day, it can end up being really special."
The result is a record that sounds full-bodied and immediate, with music that burns brutally and passionately in a way that only Fucked Up can evoke. The guitars sound like ziggurats reaching to the sky, reaching dizzying levels of melodic interplay while always maintaining a tuneful clarity—and the musical adventurousness that marked 2018's epic, lush Dose Your Dreams is plenty present here, too. The title track "One Day" piles guitar notes atop to resemble a Thin Lizzy–esque barnburner of a power-pop tune.
The accompanying video was directed by Colin Medley, who says, "When I first heard 'One Day,' it sounded to me like a song about two people overcoming all odds to find love and happiness with each other. Right away I knew that I wanted to tell the story through two dancers. I decided to shoot at the Great Hall in Toronto the day Fucked Up were scheduled to play a show there. I plotted out the basic structure of the video, deciding that it would end with the two characters searching for each other in the crowd as Fucked Up performed on stage." Its movements were directed by Lauren Runions, who brought on dancers Amanda Pye and Tavia Christina.