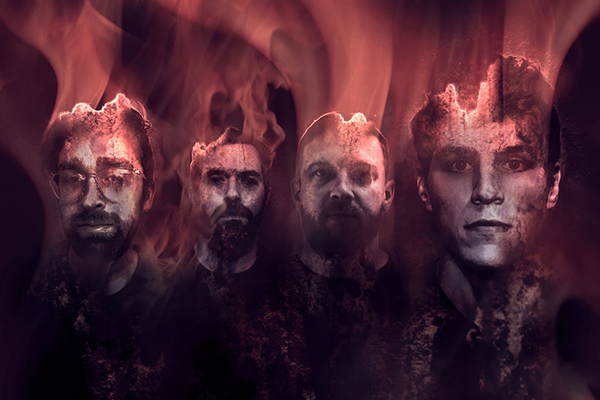 Heavy riffing alternative rock / post-hardcore group Same Gods share their brand new single "Remission" with the world today. Best summarized as "a love letter to 90's alternative rock and post hardcore written with an evolved sensibility" the group consists of four seasoned musicians, for a masterful combination of energy, talent, and craft. Ahead of their debut album release, "Remission" provides a powerful and tantalizing taste of what's to come. Ghost Cult Magazine premiered the track, describing it as an "emotive breath of fresh air in today's landscape of dirge-like, angry songs."
" "Remission" was the first song we wrote for the album and we felt that it established our identity immediately," shared drummer Steve Sopchak. "It is also special to us because it helped to define our process. The band started with a skeletal demo of "Remission" that Brendon [guitar] had cooked up a few years prior, and passed to me, to see if there was any interest. We fleshed it out over some late night jam sessions at a downtown studio space where Brendon lived and I work. As we started formalizing the project, it was very important to both of us that each new member have their own creative voice so that the project could become theirs as much as it had become ours. As soon as we heard Jon's [vocals] take on the track, which he wrote largely while he was on the road, we knew he was the right fit. Shane [bass] was the final addition and his contributions completed our vision."
As a cohesive group project throughout every step, Same Gods takes their DIY ethos to the next level, leaning on each of their professional talents. Drummer Steve Sopchak - a producer/engineer by day with his own studio The Square Studio - engineered, mixed, and mastered the release. He has written and produced albums for a diverse group of bands including Ice Nine Kills (Fearless Records), Motionless In White (Roadrunner Records), and Such Gold (Razor and Tie). Guitarist Brendon Flynn (Freya) lent his graphic design skills for the single and album cover artwork, with band photographs independently shot. Vocalist Jon Davis spent years writing, recording and internationally touring with Another Breath (Rivalry Records), and bassist Shane Conzone has extensively traveled the U.S. performing with Of Fortune and Fame (Panic Records). Despite their independently diverse and busy professional and personal lives, the supergroups' style and skills meld together into a highly complementary outfit done right. Self-professed as a studio-only project, Same Gods provide an addictively catchy yet honest sound, complete with a nostalgic hook nodding to bands like Failure, Helmet, Superheaven and Thrice.
Same Gods' upcoming debut album Worried Eyes is scheduled for release on July 10.