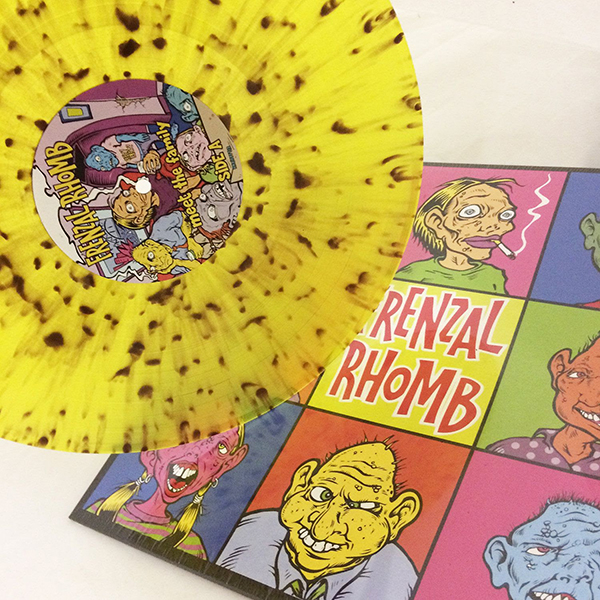 FRENZAL RHOMB remaster 'Meet The Family' and release on vinyl for the first time ever!
1997. What a year. The Castle taught us about vibe and serenity, Super League made its glorious Australian debut, we were all melting our guns down for cash, and Pauline Hanson realised bigotry could be profitable. Also, in an inner-Sydney studio that was soon to be melted down to make way for high-density apartments, Frenzal Rhomb were recording Meet The Family.
The writing process had been remarkably smooth, despite new guitarist Lindsay "The Doctor" McDougall spending more time trying to grow a believable goatee than actually playing guitar (it was the 90s after all), and not actually knowing how to write songs (see b-side Doctor Lindemans' Family Adventure Theme Park World). Luckily Jay Frenzal, as he was then known (or Jason Jasonn Beers in his vanity side project Nancy Vandal) and the band were old hands. Dirty hands, but old hands.
Songwriting for Meet The Family happened around near-constant touring; upstairs at Jay's Burren St Erskineville sharehouse proved fertile grounds for such sharp social commentary as hit singles Racist or There's Your Dad (as well as for rats and other vermin). In fact it was a model ship made almost entirely from Reschs and VB cans found by Jay's sister Fiona on a late-night trip over to Burren Street that was the inspiration for Genitals Are Funny.
Notwithstanding the rumours of the time, Mum Changed The Locks was not about the then very young Lindsay arriving home from tour to a locked door; in truth Gavan and Andy McDougall, the brothers nude, were often home to let him into Engadine's Mission Brown Mansion.
Despite his tender age and fingers, Lindsay brought some new sounds to the band. Not many of them very good. The alternate tuning of been-to-Japan-once-inspired Hakimashita lent the album a "kind of shitful soundgarden bullshit" vibe, and the blistering solo of Beaded Curtains (Part 3) gave everyone in the room blisters. Or at least more blisters than usual.
As usual, friends were in abundance to assist with ideas, sometimes without realising. Steve Lawliss (RIP) helped with Racist (and threatened to cut Jay's nipples off once), Nancy Vandal frontman Fox Trotsky came up with the comma in Guns Don't Kill Duckings, Ducklings Kill Ducklings, and a 5 year old wrote the lyrics to Beaded Curtains, thus raising the median intelligence of the album greatly.
"Double Up" Donnell Cameron was enlisted as producer to turn Frenzal's musical dreams into a reality, and also to insist on "letting it ride" at Sydney's newly-opened Star City casino. His previous work with No Use For A Name, Bad Religion and Lagwagon evident not so much on the songs themselves, but because he insisted on using Mesa Boogie Dual Recitifier guitar amplifiers, as was the style of the time. Matt Lovell and Mark Thomas rounded out the team, and long-suffering band manager Chris Moses and label boss Dianne Meyer were always on hand to keep the project on track, or ensure it went far off track.
And the rest of course, is history. Meet The Family was released in September 1997, stumbled into the top 40 and eventually went gold, after first going brown. Video clips that have become part of the fabric of Australian culture were made, very cheaply. And Frenzal Rhomb took the album to the world, they even had to finally get off the dole. And everyone lived happily ever after. Even Donnell Cameron, who is rumoured to still be at Star City, trying to get back to even.
Order here.