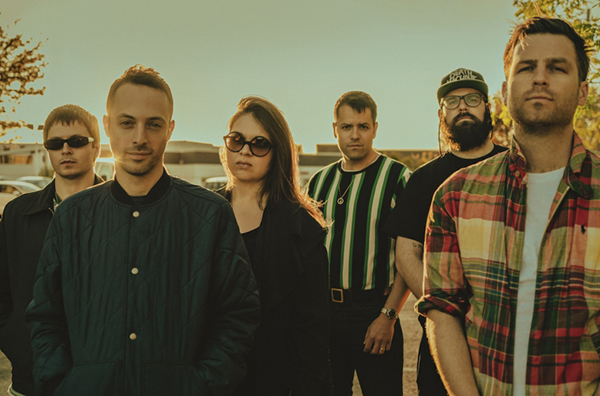 It's no hallucination: Merge just signed one of our favorite artists, the incomparable Fucked Up! The collective have outdone themselves with their forthcoming double-album epic Dose Your Dreams, out worldwide on October 5 via Merge (save for Arts & Crafts in Canada).
Fucked Up are announcing this fantastic news with "Raise Your Voice Joyce," the first single from Dose Your Dreams. It marks a return to the group's perennial hero David as he encounters the revolutionary sorcerer Joyce Tops, who lives in a garbage bin behind his work, set to an incendiary Buzzcocks-inspired stormer. Check out the lyric video below:
Also released is a video for the track "Normal People" off Dose Your Dreams
And listen to new track "House Of Keys"
Watch the video for "Accelerate" below:
Here is an excerpt from the Owen Pallett-penned bio:
I was sent an unfinished version of Dose Your Dreams so that I might contribute string parts. I couldn't stop listening to the rough mixes I received. A friend asked me how the record was. I replied, "My God, Fucked Up have made their Screamadelica."
And psych-rock-groove it is. The drums mixed wide, propensity for drones, for delay pedal, for repetition, groove. The politics and aesthetics of hardcore married to an "open format" approach to genre. Elements of doo-wop, krautrock, groove, digital hardcore.
Never a band content with releasing just one version of a hit song, Fucked Up are also putting out a limited 7-inch featuring a different mix of the single and a non-LP B-side, "Raise Your Voice Joyce" b/w "Taken"