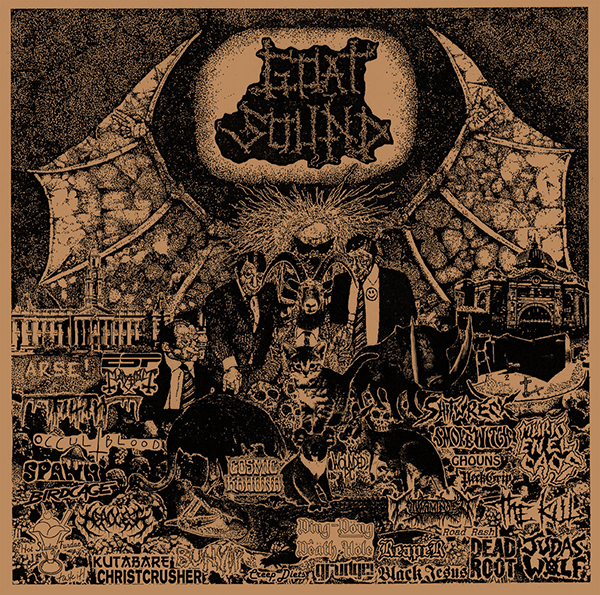 Late last year Goatsound Recording and Rehearsal Studios hosted an event where 28 bands all got together to reinterpret the Classic Napalm Death album "Scum". On that day all 28 bands had each recorded a track, with every band giving the classic grindcore album a treatment of their own sounds. That is correct, 28 bands all recorded in a single day, Reinterpreting the classic album "Scum" by Grindcore Pioneers "Napalm Death".
This was mixed and mastered earlier this year and now is ready for pre-order on limited edition Vinyl and as a digital download. This is in no small part thanks to the generous donations provided by Paul Fox of Indiemasters who mastered the album for us, Zenith Records who have given a discount on the costs of Vinyl pressing and Mountain Goat who kept the bands lubricated on the day with a much appreciated beer donation.
All profits from this album will go directly to YWCA Victoria an organisation improving the lives of women by ending inequality.
A little more about YWCA:
YWCA Victoria provides community services to women facing disadvantage and advocates for systemic change around women's equality focusing on housing, mentoring and community strengthening. The organisation is one of the largest medium to long-term housing providers for women in Victoria, offering over 100,000 nights of shelter to disadvantaged Victorians through a number of properties. YWCA Victoria delivers community strengthening and mentoring programs within community settings with a focus on empowerment, pre-employment training, creative expression and positive peer relationships. It operates over 6 sites across Victoria.
Complete Track Listing:
01. Occult Blood-Multinational Corporations
02. Shitwreck- Instinct of Survival 01:53
03. Spawn- The Kill 00:48
04. Birdcage-Scum 02:44
05. Reaper- Caught... in a Dream 02:27
06. Headless - Polluted Minds 01:00
07. Christ Crusher-Sacrificed 00:46
08. Kutabare-Siege of Power 03:33
09. The Kill- Control 01:11
10. Black Jesus - Born on Your Knees 01:47
11. Grudge-Human Garbage 02:03
12. The King Parrot & Blood Duster All Star Band - You Suffer 00:05
13. Hot Sludge Fundae- Life? 00:53
14. Judas Wolf- Prison Without Walls 00:34
15. Wounded Pig- Point of No Return 00:30
16. Ding Dong Death Hole- Negative Approach 00:00:37
17. Filth-Success? 01:08
18. Murio En Chaos-Deceiver 00:31
19. Smoke Witch- C.S. 01:46
20. Ghouns- Parasites 00:51
21. Road Rash- Pseudo Youth 00:41
22. Contaminated-Divine Death 2:13
23. Bunyip- As the Machine Rolls On 1:13
24. Dead Root - Common Enemy 00:13
25. Creep Diets- Moral Crusade 1:57
26. ESP Mayhem-Stigmatized 1:05
27. Cosmic Kahuna - MAD 1:22
28. Neck Grip - Dragnet 1:18
Pre order the album as digital or limited edition vinyl.
RELEASE DATE: Monday MAY 28 2018.