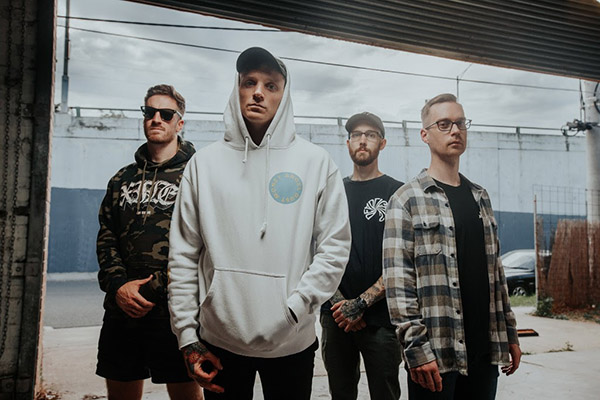 The more things change, the more they stay the same. No more resonant of an adage could be said for the return of Oceanic hardcore group Antagonist AD, as they proudly announce their signing to Greyscale Records, and drop the 1-2 punch that is their new single No Justice; a track that proves that their message and ferocity has only strengthened in their absence; and that the band is back with a vengeance.
On the single, vocalist Sam Crocker had the following to say "No Justice is about coming to the reality that western society was built upon prejudice and injustice. That the only way to change it is to first change yourself and own your actions/consequences. That the only way to find justice is to be accountable for the way you live -accepting that your actions have consequences. So we will push on for change, living a better way, one step at a time."
As for the future for Antagonist AD, it's never looked brighter. "The fire I had inside me for Antagonist AD is raging. We slept and now we are back. Our shows were always crazy and we missed that energy, that feeling, that release and that's why we are back. The music is not just for us, it is for everyone. We feed each other; the feeling, being connected, the release and the empowerment. We have written our best stuff yet and as long as people are there to get down - we are gonna bring it.
Next month the band returns to the stage with shows in Melbourne and Sydney alongside some incredible upcoming talent such as Imprisoned, Dregg, and Homesick, "We never stopped. Spending hours upon hours writing over the last couple of years. We are very happy to turn this page and share what we have been working on. I can not wait to step back into the fray. Music / shows I expect chaos and nothing more moving forward."
ANTAGONIST AD
'No Justice' Launch Shows
FRIDAY JUNE 8 - BENDIGO HOTEL - MELBOURNE 18+
w/ Imprisoned, Dregg, Cast Down, & Caged Existence
SATURDAY JUNE 9 - BURDEKIN HOTEL - SYDNEY 18+
w/ Imprisoned, Underminer, Homesick, & Belligerent