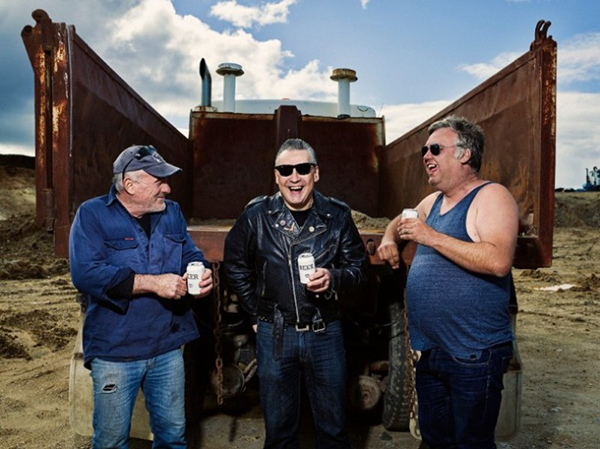 If there's three things the Psychos know how to do, it's smash a beer, write a tune and make a damn video.
They've delivered comprehensively on the third this week with the release of 'Too Dumb To Die', another Lluis Fuzzhound classic in the theme of Warner Brothers' beloved Roadrunner cartoons. Fuzzhound, who is responsible for the hilarious Bum For Grubs video and animation in the Psychos' lauded documentary Blokes You Can Trust, has smashed this one out of the park. The idea itself however, came from Ross, who thought it would be funny to mess with Psychos' roadie Digger, who was unaware once again that he was being made into a cartoon.
Having sent their previous record labels broke, the 'Psychos went on to release Loudmouth Soup on April 6 on the band's own label GO THE HACK Records and was rewarded for their ingenuity by hitting #1 on the AIR Independent Music Charts last week.
The LP was recorded last year on singer Ross Knight's storied farm, Spring Plains, and produced by longtime collaborator Silvia Vermeulen. Flown into to the rugged fields of Eastern Victoria especially for the gig, Vermeulen has been the Psycho's trusted live engineer in Europe for longer than they can remember.
Don't miss the Psychos on tour this month, as they test out the new LP on rowdy rooms nationwide. An incredible Adelaide lineup is still to come next week, as well as the hotly anticipated Cherry Rock festival and a mega headliner at Melbourne's Croxton band room. Oh, and Darwin? You're closing out the tour, so you better bring the party. These blokes will be knackered and in need of a knock off.
TICKETS ON SALE NOW
Tues April 24 - Karova Lounge, Ballarat
Wed April 25 - Fowlers, Adelaide
Fri April 27 - Club 54, Launceston
Sat April 28 - The Brisbane, Hobart
Sun May 6 - Cherry Rock, Melbourne
Thurs May 17 - Racecourse Hotel, Ipswich
Fri May 18 - Triffid, Brisbane
Sat May 19 - V Room, Noosa
Sun May 20 - Shark Bar, Gold Coast
Sat May 26 - Croxton, Melbourne
Fri June 1 - Tanks, Cairns
Sat June 2 - Dalrymple Hotel, Townsville
Sun June 3 - Mt Pleasant Tavern, Mackay
Sat June 9 - The Rails, Darwin