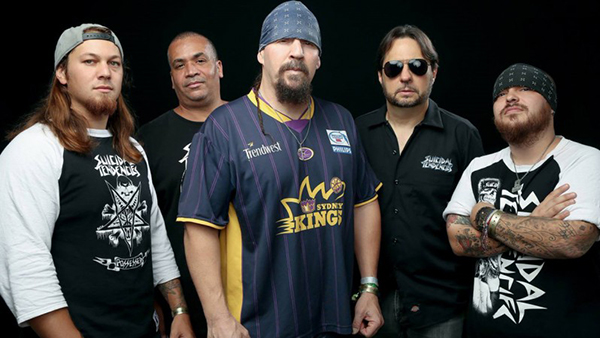 Southern California crossover thrash/hardcore punk/skate punk legends SUICIDAL TENDENCIES announce their new EP "Get Your Fight On!" and release a new track.
From the band...
Today STarts the pre sale of the new SxTx release "Get Your Fight On!"
If "Get Your Fight On!" Sounds familiar it's cause it was on the laST ST Album, "World Gone Mad".
Originally we were gonna put an E.P. out before "World Gone Mad", but a number of cool things happened, STarting with getting Dave Lombardo in the band, and so plans changed:)
Now we are releasing this 10 Song "E.P." March 9th before the release of the next full L.P. called, "STill Cyco Punk After All These Years" which will be released in July. You'll get a taSTe of that with the opening track, "Nothing to Lose", a Cyco Punk rager updated from the Cyco Miko days. This will also come as instant download when you pre order "G.Y.F.O."
Next we have "Get United" which features and was co-written by the insane talented bass player and our good friend "Thundercat" aka STeve Bruner. He also is featured on the following track iAuthority, along with another great friend and insane guitarist Tim STewart.
"Ain't Mess'n Around" was re recorded awhile back for the "original" and has Phil Greenwood sitting in on drums. If you have the European version of the Cyco Miko solo cd from 1995 this might sound familiar.
S.E.D. was recorded during the "World Gone Mad" sessions and was finished just for this release…
Will just say it's definitely not a song for everyone and probably will be the moST misunderSTood track (if people can even make it to the end, lol)
Starting side 2 is "I Got a Right" a great, fun, powerful track by the legendary Iggy Pop. It's also the firST ever ST cover song! This is where it switches up a bit again....
"Get Your Right On!" is a more acoustic and different interpretation of "Get Your Fight On!" It features the legendary Travis Barker on drums (huge thanks to Travis for sitting in on this one) and has a completely different feel to the original. I'm sure this will be the Love it or Hate it track. We love it, that's why it's on, but you get to decide for yourself
Then we shift gears again. "Cyco puts down the Mic" and we have two different "InSTrumental" versions.
"Get Your Bass On!" Features Ra ripping it up doing his thing playing "Lead Bass" over the inSTrumental version of "Get Your Fight On!", follow by Dean shredding an all lead guitar version over
"Get Your Right On!, before ending with the original "Get Your Fight On!" that was released on "World Gone Mad". Four different takes on the same song, yet all completely different. Hopefully making the point that whatever you do, do it your way and don't be afraid to switch it up.
We look at this as a kinda "Fan Club" STyle release, to tie you over till the next release and full on World Tour, but hopefully you'll appreciate this and find a few songs, sounds, messages in this release and if all goes well, hopefully a lil motivation to "Get Your Fight On!"
As always, thanks for all the support and STay Cyco! Next up New Zealand and AuSTralia in March!
Suicidal Worldwide Family 2018
Album art by Mike Strachan
Graphic design by Alan Pirie
Here are the links...
ALL PRE ORDER LINKS ARE POSTED ON OUR OFFICIAL WEBPAGE AT : http://www.suicidaltendencies.eu/index.php/pre-order
March 2018 Tour Dates:
Wed 21st. Gold Coast. Coolangatta Hotel
Thu 22nd. Sydney. Metro Theatre
Fri 23rd. Brisbane. Eatons Hill
Mon 26th. Adelaide. The Gov
Tue 27th. Perth. Capitol