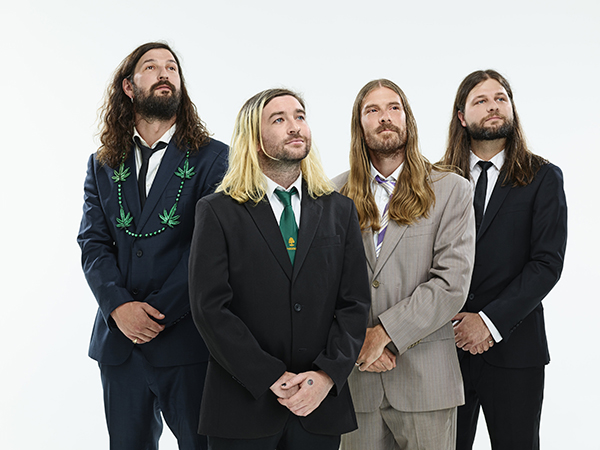 With new album, Natural Born Chillers, only a few weeks away The Bennies share new track 'Dreamkillers' and announce an epic run of six shows and in-stores in three days this February.
"This song is our big fuck you to all the people that try and tell you not to chase your dreams" comments The Bennies' lead singer Anty Horgan of the track which premiered on triple j Good Nights yesterday.
Upbeat, unbridled and honest, 'Dreamkillers' is the second single from The Bennies' forthcoming album, bringing a positive energy reminiscent of 2016 hit 'Detroit Rock Ciggies' but with an even more anthemic quality. Kicking off with a melodic yet hard rocking guitar riff and a soaring synth line 'Dreamkillers' is every positive moment that a Bennies live set creates, all somehow packed into a 3 and a half minute fist pumping sing along. If you've been having a rough day, this song will turn that around. The musical equivalent of a high five with your best mate, 'Dreamkillers' delivers a knockout blow to any negative energy trying to destroy your trajectory to freedom.
In a world gone mad, a nationwide scandal has emerged where people are now trying to 'Ban the Beers'. With less than no experience, The Bennies garner the support of the people and are forced to enter the slimey world of Australian politics. Change is coming. There will be mistakes. Don't let anyone kill your dreams.
That is the message behind The Bennies' new single 'Dreamkillers' which comes with one hell of an epic video featuring the band on the campaign trail. Shout out to the team that helped with the vid: Thomas Elliott, Ben Anderson, Josh Hanson, Josh Kerr and Charlie Jepson. Watch the video below.
'Dreamkillers' is taken from Natural Born Chillers, The Bennies' latest album out today on Pool House Records / Remote Control.
Recorded with Sam Johnson (The Smith Street Band, The Hard Aches, Camp Cope) lyrically and sonically it's their most focused and mature work, but still manages to maintain the fun and enthusiasm that has built their fan base worldwide.
Order The Bennies - Natural Born Chillers via thebennies.lnk.to/naturalbornchillers
The Bennies - 'Dreamkillers' Stream / Purchase: thebennies.lnk.to/dreamkillers