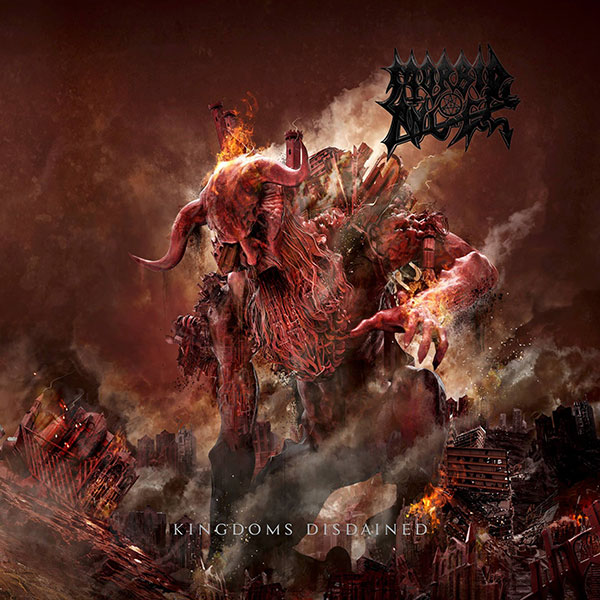 Morbid Angel have announced plans to release their ninth studio album titled Kingdoms Disdained on December 1 through UDR Music.
Kingdoms Disdained reunites founding guitarist Trey Azagthoth with Tucker. Captured at Mana Studios in St. Petersburg, Florida and produced by MORBID ANGEL with Erik Rutan (MORBID ANGEL, Cannibal Corpse, Hate Eternal, Six Feet Under, Belphegor), Azagthoth, Tucker and drummer Scotty Fuller (Annihilated, ex Abysmal Dawn), the record delivers eleven pieces of devastatingly dynamic death metal. Compositions such as "Garden Of Disdain," "Architect And Iconoclast," and "The Pillars Crumbling" supremely illustrate Azagthoth's incredible creative alchemy with Tucker as well as his own incomparable guitar work.
Just one play of MORBID ANGEL's searing Kingdoms Disdained, and you'll realize that this is the only true current aural document of a world sinking into uncharted despair. "The album title says it all," says Tucker, "everybody's fed up and nobody can figure out how to fix it. We've got all these miniature wars in neighborhoods, cities, countries, and we've got people with varying opinions causing chaos, yet everyone is doing what they feel is right. Which all makes it feel like the world has reached a point of utter madness and confusion."
As if fate constructed the moment, these forefathers of death metal found themselves witnessing the storm's eye as they prepared to create Kingdoms Disdained, deciphering it with their ferocious music via long-held Sumerian-based beliefs. "It's been written but nobody pays attention, because we erase our history," furthers Tucker. "We don't understand much about the Sumerian texts because things got erased, buried, and broken up. And for years, Trey and I talked a lot about the idea of those Gods waking up and coming back to show us that they're angry."
Issues bassist/vocalist Steve Tucker of the track, "This is one of the songs that was written in the rehearsal space; something that we hadn't done in many years. We wanted to get a live, intense feeling on some of the songs and this is definitely a great example of what we set out to achieve. The title of the song and lyrics are a bit self-explanatory. To live one's life without masters, would be the dream of many souls."