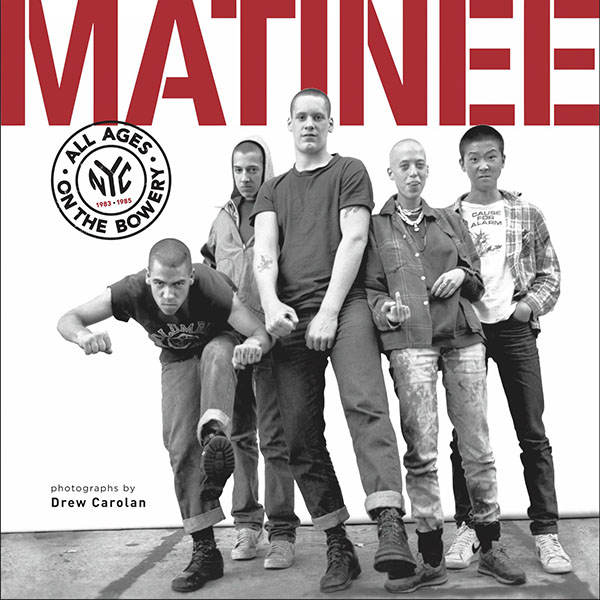 Radio Raheem has announced the release of a photo book documenting crowds of CBGBs titled "Matinee" due out mid October.
Between 1983 and 1985, New York City photographer Drew Carolan began photographing the patrons of the now infamous hardcore matinees that were going on at the seminal underground music club, CBGB. During the week, Carolan was working as an assistant to legendary portrait photographer Richard Avedon, and on weekends he set up a makeshift studio across the street from CBGB and intercepted kids on their way to the all-ages afternoon shows. The result is a collection of photographs capturing the beauty, vulnerability, and the unbridled energy of youth during the height of the Reagan years. The Bowery at that time was a true melting pot of downtrodden adults, underage hardcore punk kids, and people living on the fringes of society. Now, more that thirty years later, all of that has disappeared and a copacetic, prosperous, and gentrified element has taken its place. While the hardcore punk scene still thrives today, these photographs capture a time and place in history that no longer exists.
Nearly 2 years in the making, Radio Raheem is proud to offer this collection of Carolan's photos in a beautiful 10"x10" hardcover volume featuring nearly 150 pages of images.
MATINEE is available in two flavors:
1. Stand-alone version: Just the book!
2. Deluxe version, including:
- The book
- 20"x30" poster
- Three signed 8"x10" prints
- 7" record featuring exclusive live tracks by Death Before Dishonor, Antidote, The Psychos, Blood, The Mob, and Hellbent, all recorded between 1983-1985
...all housed in a foil-stamped, case-wrapped box
Deluxe version is limited to 500 copies. All order include a free, immediate download of the 7" record. You can preorder here.