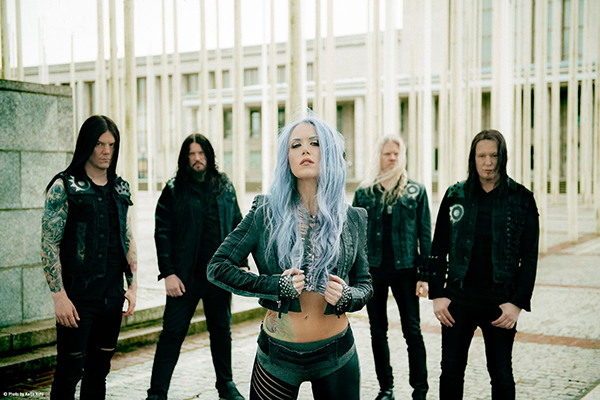 Metal powerhouse ARCH ENEMY are ready to bring their fierce brand of metal to audiences worldwide as they announce details on their upcoming album, "Will To Power", out September 8, 2017 via Century Media Records. The band are excited to reveal the album's captivating cover artwork, as shown below, designed by Alex Reisfar.
Guitarist Michael Amott commented on the artwork:
"It was a pleasure working with Alex Reisfar on the 'Will to Power' cover artwork, he immediately grasped the concept and atmosphere we were looking for with this album. We talked about the double edged sword that is human ambition, how it can be outstandingly creative and beautiful but can also be turned into something dark and powerful. Alex proceeded to masterfully paint a strong image that evokes a lot of feelings. The human skull as a central focal point, the flesh sort of falling off into the circular pattern. The snake ouroboros weaving in and out of the mouths and throats of the severed heads of a wolf, a goat and a vampire bat... All representing self determination and a predatory, almost parasitic will to power"
Co-produced by Amott and drummer Daniel Erlandsson, the album was sent to long time collaborator and friend Jens Bogren (Opeth, At The Gates, Dimmu Borgir) for mixing and mastering and marks legendary guitarist Jeff Loomis' (Nevermore) first recording with the band.
Following in the steps of their most acclaimed album to date, "War Eternal", which saw the band reach their highest charts in the US and Germany to date, "Will To Power" will continue to smash records worldwide.
While full details and pre-order information on "Will To Power" will be made available in the coming weeks, fans can currently take part in a special campaign which will allow them to sign up and have their name featured in the "Will To Power" Deluxe Box Set Edition. For further details and to have your name included, please visit: http://willtopower.centurymedia.com/
Arch Enemy have unleashed the masterful new single, "The World Is Yours," taken from their forthcoming album, Will To Power, due out on September 8 via Century Media Records worldwide.
Mastermind Michael Amott comments, "We've been hard at work on the new album for a while now and we're proud to present the first taste of new Arch Enemy music in over three years with our new single and video, 'The World Is Yours'! This was the first song I wrote for the upcoming 'Will To Power' album and Daniel (Erlandsson, drums) helped me arrange and finish it up. One of many songs we co-wrote and co-produced this time around. We had a blast recording together with the full band in the south of Sweden and then mixing with Jens Bogren, who did a superb mix and mastering - in my opinion even surpassing the epic sound on our previous record, 'War Eternal'. People that have heard this song in particular are saying it's got the classic anthemic Arch Enemy vibe going on, and I think they might be right about that... Looking forward to playing it live on stage later this summer!"
The massive debut track can be heard and seen in their rousing music video, directed by Patric Ullaeus. "The World Is Yours" will be offered as an instant download with all digital pre-orders and is also available on all streaming platforms.
Arch Enemy have also released a cover of The Shitlickers' track "The Leader (Of The Fuckin Assholes)"
Watch the video for "The Eagle Flies Alone"