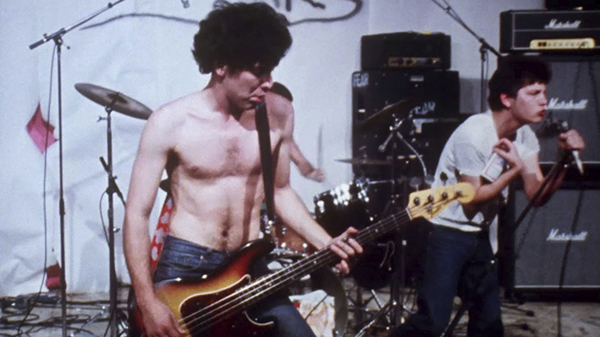 The Sydney Film Festival is delighted to present Smash it Up: Celebrating 40 Years of Punk Rock 1977-2017. On 27 May 1977, the Sex Pistols released 'God Save the Queen'. Their contribution to the Queen's Silver Jubilee marked the high-point in the history of punk rock. In June 2017, SFF marks the 40th anniversary of this momentous cultural occasion with a collection of movies that take us into the music, art, politics and attitude of punk.
The Decline of Western Civilization
A legendary documentary which dives headlong into the pulsating energy and chaos of the LA punk rock scene, circa 1980, and features Black Flag, X, Circle Jerks and Germs.
Fri 16 Jun 6:00 PM - Dendy Newtown
In the sacred year of 1977 the 'Pope of Trash' John Waters served up this deliriously demented punk rock fairytale set in the garbage dump kingdom of Mortville.
Sat 17 Jun 4:50 PM - Art Gallery of NSW
The Sex Pistols tell their own story in Julien Temple's inspired reply to his own film, The Great Rock 'n' Roll Swindle, made 20 years previously.
Sun 18 Jun 2:30 PM - Art Gallery of NSW
The Great Rock 'n' Roll Swindle
Julien Temple's classic 1980 fictional documentary presents the spectacular rise and disintegration of the Sex Pistols as an elaborate swindle orchestrated by manager Malcolm McLaren.
Sat 10 Jun 3:20 PM - Art Gallery of NSW
Derek Jarman (Edward II; Wittgenstein, SFF 1993) directed this stunning satirical fantasy about England on the brink of punk-fuelled destruction.
Mon 12 Jun 6:00 PM - Event Cinemas George Street
Sat 17 Jun 3:55 PM - Dendy Newtown
On the Road (trailer: view here)
A seductive fictionalised music documentary featuring alt-rock indie heroes Wolf Alice on tour, directed by Michael Winterbottom (24 Hour Party People and 9 Songs).
Thu 8 Jun 8:20 PM - Event Cinemas George Street
Sat 10 Jun 8:35 PM - Dendy Newtown
John Lydon of Public Image Ltd, aka Johnny Rotten, is in trademark full-on mode riffing on his post-Sex Pistols career. Illustrated with infamous interviews and classic tracks.
Sat 10 Jun 6:30 PM - Dendy Newtown
Mon 12 Jun 8:20 PM - Event Cinemas George Street
Tue 13 Jun 8:30 PM - Event Cinemas George Street