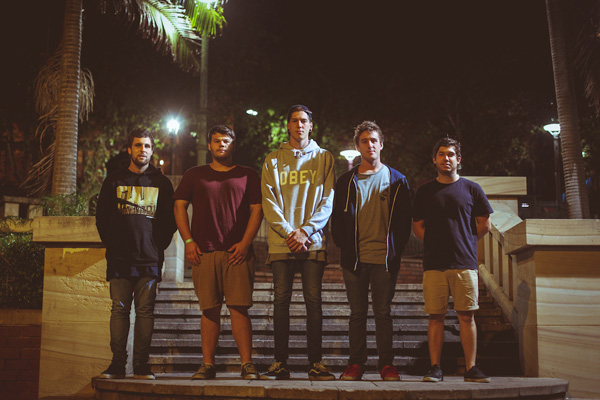 After just announcing their upcoming debut full-length, Mend, Move On, which will be released in Australia on October 31st, 2014 via Hopeless Records/Unified, the Newcastle lads in Trophy Eyes have announced they will be touring the nation with Endless Heights, Landscapes all the way from the UK and Columbus.

The band has also released a new single and music video for their latest single 'In Return,' taken from the debut album. The song is also available for instant download when you pre-order the album on iTunes.

Joining them will be Sydney melodic hardcore veterans Endless Heights, who will be jumping on the tour right after playing their infectious blend of perfect melodies and rhythms to crowds across Asia in October. The band released their well-received debut album New Bloom earlier this year.

Third on the bill is another one of the globes most loved melodic hardcore bands. All the way from the UK, Landscapes will be bringing their unique European hardcore sound to our shores for the first time ever after developing a huge following when they released their debut album Life Gone Wrong back in 2012. The band is currently recording their sophomore album at Panda Studios in the US after signing to Pure Noise Records.

Last but not least is Brisbane's most exciting new Emo/Punk band, Columbus. After only forming recently, the band has toured the country relentlessly and has released two highly impressive EPs.
Mend, Move On will be released in Australia October 31st, 2014.
You can preorder Mend, Move On now at 24Hundred, or digitally on iTunes.
TROPHY EYES
'Mend, Move On' Album Tour

with
Endless Heights
Landscapes (UK)
Columbus
Thursday, 6th November, Last Night, Perth 18+*
Tickets available at the door only.

Friday, 7th November, YMCA HQ, Perth AA*
Tickets on sale Tuesday 23rd September, 9AM

Thursday, 13th November, The Brightside, Brisbane 18+
Tickets on sale Tuesday 23rd September, 9AM

Friday, 14th November, The Lab, Brisbane AA
Tickets on sale Tuesday 23rd September, 9AM

Saturday, 15th November, UnFun Festival, Sydney LIC AA
Tickets on sale now, http://tickets.oztix.com.au/default.aspx?Event=45973

Saturday, 15th November, Wasted Years, Sydney 18+
Tickets available at the door only.

Sunday, 16th November, The Lair, Sydney AA
Tickets on sale Tuesday 23rd September, 9AM

Monday, 17th November, Rad Bar, Wollongong AA
Tickets on sale Tuesday 23rd September, 9AM

Tuesday, 18th November, Hombre Records, Newcastle AA
Tickets on sale Tuesday 23rd September, 9AM

Wednesday, 19th November, Magpies City Club, Canberra AA
Tickets on sale Tuesday 23rd September, 9AM

Thursday, 20th November, Bang!, Melbourne 18+
Tickets available at the door only.

Friday, 21st November, Wrangler Studios, Melbourne AA
Tickets on sale Tuesday 23rd September, 9AM

Saturday, 22nd November, The Yacht Club, Portland AA
Tickets on sale Tuesday 23rd September, 9AM

Sunday, 23rd November, Fowlers Live, Adelaide LIC AA
Tickets on sale Tuesday 23rd September, 9AM

**Trophy Eyes only