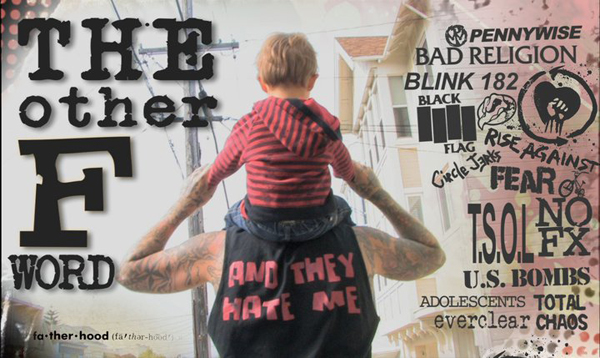 THE OTHER F WORD
http://www.theotherfwordmovie.com/
This revealing and touching film asks what happens when a generation's ultimate anti-authoritarians -- punk rockers -- become society's ultimate authorities -- dads. With a large chorus of punk rock's leading men - Blink-182's Mark Hoppus, Red Hot Chili Peppers' Flea, Rise Against's Tim McIlrath - THE OTHER F WORD follows Jim Lindberg, a 20-year veteran of the skate punk band Pennywise, on his hysterical and moving journey from belting his band's anthem "Fuck Authority," to embracing his ultimately authoritarian role in mid-life: fatherhood.
Combining archival footage, rare personal interviews at home, and performances captured from current tours, The Other F Word is a heartfelt ride from the anti-establishment punk revolution to the endearing lessons that come with fatherhood and raising a family.
It features Mark Hoppus (Blink-182), Flea (FEAR, Red Hot Chili Peppers), Greg Hetson (Bad Religion, Circle Jerks), a rare appearance by one of the original Black Flag members, Ron (Chavo) Reyes, Tim McIlrath (Rise Against), Josh Freese (NIN), Art Alexakis (Everclear), Jim Lindberg (Pennywise), Lars Frederiksen and Matt Freeman (Rancid), Tony Hawk (Pro Skater) Joe Sib (SideOneDummyRecords), Kevin Lyman (Warped Tour), Rick Thorne (BMX, Good Guys in Black), Brett Gurewitz (Epitaph Records, Bad Religion), Jack Grisham (TSOL), Fat Mike (NOFX), Joe Escalante (The Vandals), Mark Mothersbaugh (DEVO). And music by most of these bands as well as The Bouncing Souls.