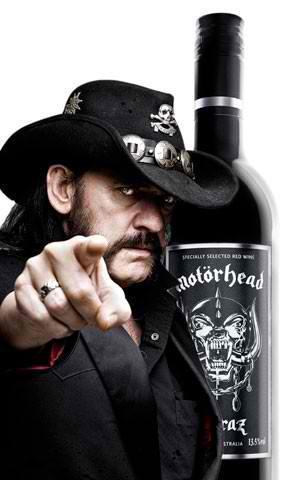 There is no end to the merchandising avenues bands will pursue. Earlier this year Slayer launched its own branded condoms, then AC/DC launched their own wine range and now Motorhead have followed suit. Perhaps its an attempt to limit sales of Woodstock premix bourbon in a can...
Much like a fine wine, British rockers Motorhead have only been getting better over time, which may just be what prompted bassist/singer Lemmy Kilmister to launch his own label, Motorhead Shiraz.
An Australian Shiraz, it's a full-bodied, fruity bouquet mixed with hints of oakiness, blackberry, plum, eucalyptus and licorice, best served with lamb or beef. Just like Lemmy it allegedly, "packs a real punch."
Motorhead Shiraz was first released in Sweden in 2010, selling 120,000 units to date. Great Wine Online, a purveyor of vino in the UK, is currently selling a case of six bottles for £86.40, that's $132.84 at the latest currency exchange rate. Unfortunately, however, the wine is not yet available in Australia.
Lemmy wants his followers to enjoy the adult beverage, but offers his own please drink responsibly words of wisdom.
"Approach it with caution," says the 65-year-old rockstar. "Wine is deceptive. Anything can happen."
Lemmy joins a host of other celebrities who have ventured into the wine and spirits business.
AC/DC also launched a collection of four red and white wines -- the Back in Black Shiraz, You Shook Me All Night Long Moscato, Highway to Hell Cabernet Sauvignon and Hells Bells Sauvignon Blanc.