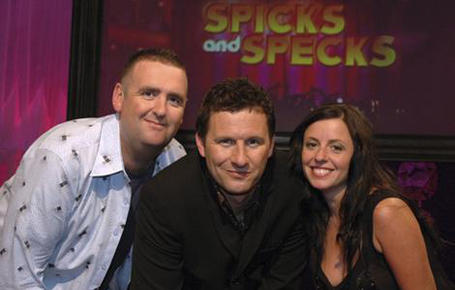 Just a reminder to tune into the ABC at 8:30 pm tonight to see PARKWAY DRIVE's frontman Winston McCall on SPICKS AND SPECKS. Joining Winston on the show are guests Peter Helliar, Jane Clifton and Lawrence Mooney as well as the usual hosts Myf Warhusrt, Alan Brough and Adam Hills.
Winston is on the same team as Myf Warhurst and Peter Helliar, and Graham Nixon from Resist Records who was in the studio audience for the show, tells us there is a special rendition of a Parkway track to look forward too on the show.
Below is the bio of Winston from the ABC site, just in case you'd never heard of Parkway Drive:
"Winston McCall provides vocals for metalcore act Parkway Drive. Hailing from Byron Bay, the band are set to cement their reputation as one of the most dominant exponents of heavy music on the planet with their spellbinding third album, Deep Blue. After two well received albums, 2004's Killing With A Smile and 2007's Horizons (the latter achieving Top 6 ARIA chart success), 2009's Parkway Drive: The DVD was met with a typically rabid response. It debuted at 2 on the ARIA chart and achieved Platinum status within weeks. By year's end it was Australia's biggest selling local artist DVD and was crowned 'Best Music DVD' at the 2009 Rolling Stone Awards."