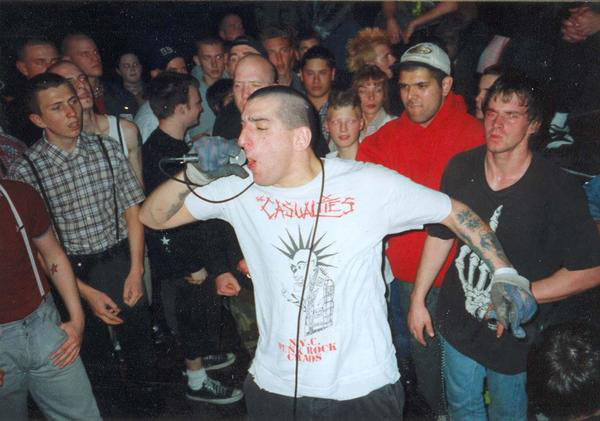 For New Yorkers September 11th is a day of mourning, and so it rightfully should be. Little do most realise that perhaps the bigger tragedy occured in their city some 14 years ago with the passing of WARZONE frontman, one time AGNOSTIC FRONT drummer and NYHC icon, Raybeez.
Take a minute today, to reflect on the passing of a hardcore legend who always kept the faith. Remember, don't forget the struggle, don't forget the streets and don't sell out. We hope Raybeez is resting in a better place surrounded by the Warzone women and skinhead girl warriors a plenty. The guy sure was crazy, but not insane.
This informative piece was lifted from UNITYHXC.com
Raymond James Barbieri was the vocalist in Warzone, in addition to playing drums on the 1984 Agnostic Front United Blood EP. Beginning with that EP, Ray made a dramatic impact on the hardcore scene and is credited for keeping it and the original english skinhead movement alive. He inspired a lot of people all over the world, especially street kids, and especially in New York City, where he often played and booked other bands at CBGB's. Ray also helped compile Revelation Records' New York Hardcore CD.
Ray's lyrics, always from the heart, were his most memorable accomplishment. When Warzone played, he used the stage as little as possible, hoping that just by looking you in the face when he sang you'd take in what he had to say.

His favorite message? A shout for unity, spreading the word that racism and separation of any kind was a load of shit, including the divisions between punks, straight edgers and skins. He also handed out and included in album inserts free literature for runaway hotline numbers, child abuse centers, and GED information.
In spite of rumors that Ray may have died from AIDS, the actual cause of death was viral pneumonia. Warzone was in Chicago recording the new album and Ray started having a hard time doing his vocals, complaining he was having difficulty breathing. He tried hard to rehearse with Warzone again but couldn't, so he went to the doctor and was immediately hospitalized. He kept in touch with Vinny, Todd and J-Sin and was sure that he was to be released in a few days. Vinny spoke to him the morning of his death, and Ray reassured him that he was going to be okay. It would be just like him to know he wasn't going to be okay but not want anybody to dwell on it those that really knew Ray are surprised he lived this long. The important thing to remember is not how he died or whatever bad things he got caught up in that may have caused his death. The important thing to remember is he probably would have thrown down his life for anyone other than himself.
I stole this quote of Jordan Cooper below off the Double Cross blog:
Raybeez was always really cool and friendly. He got me into shows at the Ritz when he worked there and always had a shirt for me and my girlfriend when we went to see Warzone play. One time I went to see them play at the Pyramid not too long after Jay joined the band and they had some new songs. After the show they were going nuts, dogpiling on each other, yelling and just reacting to how great they felt after playing. I was the only one there (downstairs) who wasn't in the band and after a few minutes they noticed me standing there and realized I was probably feeling a little uncomfortable. So they broke up the party and we talked for a minute and I said my goodbyes and then they just went right back to going crazy. They looked like a really close family, only a few other bands I've know have been like that with each other. - Jordan Cooper / Revelation Records
Heres some footage of Raybeez fronting Warzone to help you through today.
"Always, a friend for life. Don't forget the struggle, don't forget Raybeez."