Wednesday, 29 August 2012 00:00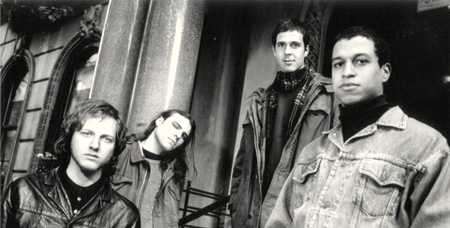 Quicksand performed a sold out hometown reunion show at the Bowery Ballroom in New York last weekend. Hate5Six were on hand to record the show but were stopped by security and thrown out of the venue after about fifteen minutes. The Bowery Ballroom was of course the same venue that the Harley Flanagan stabbing occured at in July.
Due to their frustration with being unable to record the show, they've launched a petition to urge the venue to allow videotaping in the future.
Quicksand will be rereleasing a very special edition of their debut album, Slip via Shop Radio Cast and Dine Alone Records, September 11, 2012. Limited to 1500 pressings, with 500 exclusive to DA, the remastered version of Slip comes on 180g black vinyl, including a gatefold jacket full of never-before-seen photos, and a cover of The Smith's "How Soon Is Now." Pre-sale will begin next week. Check out the SRC exclusives HERE and the Dine Alone exclusive HERE.
In case you missed the earlier post, check out Quicksand performing on Late Night With Jimmy Fallon, playing the tracks "Omission" and "Fazer" off debut album, SLIP.