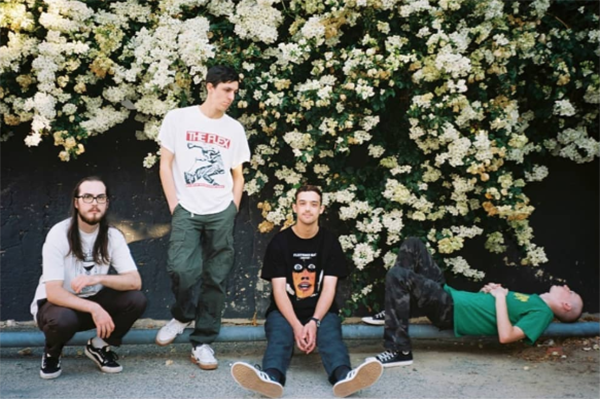 The youthcrew vibe is strong over in the wild, wild west with Perth band ENGAGE recently dropping a cracking new 7 inch titled "Sincerity" through Life Lair Regret Records. We caught up with frontman Alex to find out more about the band...
At what point did ENGAGE form and how did it all come together?
Engage started jamming at the beginning of 2017 originally with Joel from Denial and Facile. He got Cadeyrn and Declan on board but had to leave before with starting writing the demo and playing shows. Our only goal from the start has been to have fun and write sick youthcrew tracks we'd wanna two-step to.
Would readers recognise the members from any other bands?
Our drummer Brayden plays in Facile and our guitarist Declan plays in Denial. He's also the designated substitute bass man for Unravel.
In your own words, how would you describe the sound of ENGAGE and what bands are influencing this sound?
I'd say Youthcrew is a suitable label for it. We take in influences from older and new bands but i think there's a strong 00s vibe to it.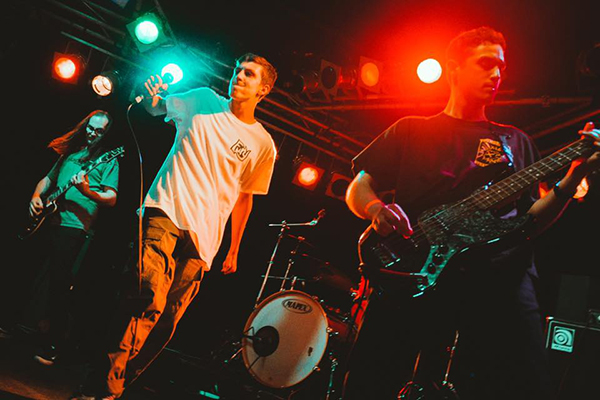 What would be a dream line up of bands to play with?
I'll keep it to current bands and go with: Fury, Total Control, Unified Right, Milk Music, (Sandy) Alex G, Sheer Mag, Mil-Spec
Preferably at a AA DIY venue with no security.
You guys hail from Perth. How is the local music scene there currently? What sort of local bands do you play with and any you'd recommend people check out?
At the moment there's a lot of good new bands coming out of Perth but not a many people are putting on shows. We're lucky to have a strong bond between the hardcore kids and punks. We tend to play mixed bill shows which we're all about. Everyone gets along for the most part which you can't say about other cities in Australia. Everyone should check out The Chain, Apollo Zen, Facile, Denial, Unravel, No Brainer, Cold Meat, No Future, Nerve Quakes, Hexx & Warcycle.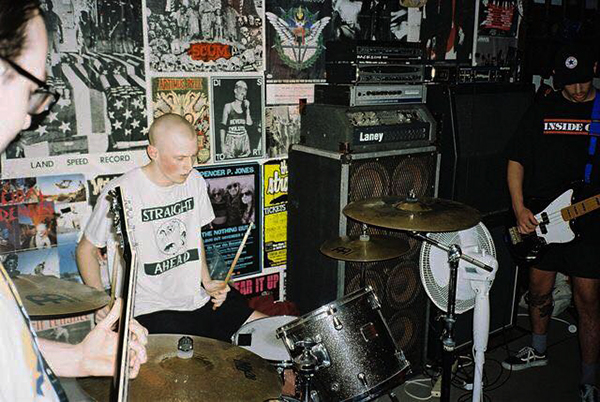 You've just released your debut 7 inch "Sincerity" via Life Lair Regret Records. How did the recording and the addition to LLR all come about?
We recorded the it over a weekend with the genius Al(ien) Smith who worked wonders with how he mixed and mastered it. I can safely say I don't think the record would be what it is with him. The first thing people say to me about the record is how good the mix sounds.
We were originally going to release it on my old label No Surrender Records but I decided to put it to rest so Declan hit up the Lair and they we're keen to work with us.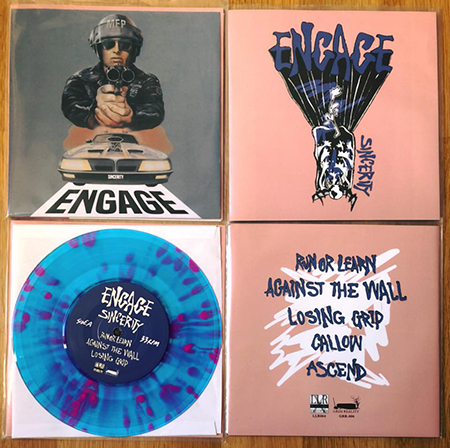 Grim Reality records in Europe is also releasing the record, how did that partnership come about?
Im not entirely sure I think Michael and Robert just asked them if they'd be interested in collaborating on the record release and they were down with it. I don't know much about the label but I'm psyched our music is falling upon euro ears. Europe rules! I spent some time there last year and was able to see Fury & Freedom in Berlin. Amazing place.
The EU preorder cover features some Mad Max artwork. Was that the band's idea or the label's?
They originally hit us up about doing a Crocodile Dundee cover, but none of us were really into it so Cadeyrn suggested the Max Max cover.
Can you rank the 4 Mad Max movies in order of appreciation?
Mad Max 2
Mad Max
Mad Max Fury Road
Mad Max Beyond Thunderdome
What else is in store in the foreseeable future for ENGAGE?
We're going to Melbourne to play Lair Fest in September which we're excited about. Hopefully we can find time and money to do a tour before the end of the year also. We're working on new songs that we're excited about. We'll probably keep writing and do a bigger record for our next release so maybe expect some new shit next year.
How can people get in touch or keep up with what's happening with ENGAGE?
Our email is This email address is being protected from spambots. You need JavaScript enabled to view it.
We're pretty crap at the social media game but post on our Instagram sometimes @engage.yc.
Grab a copy of Sincerity over here.