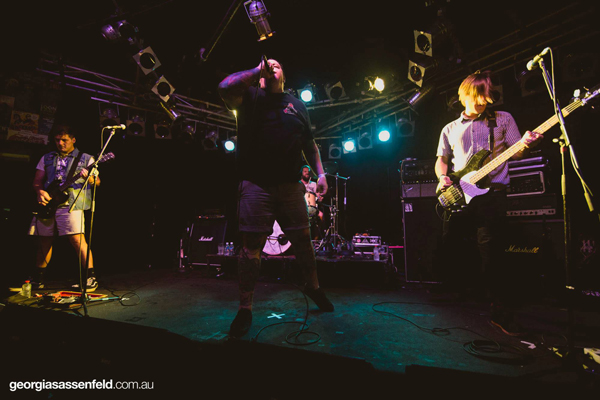 The latest thrash-tastic band to emerge from the other side of Australia is none other than BOUNTY HUNTER. Made up of members of Blkout, Flowermouth, Vanity, Losing Grip and Friend Zone, BOUNTY HUNTER are fast gaining fans with every listen to their brilliant two song demo.
Answered by Tom (Guitar) and Matt ( Vocals)
At what point did BOUNTY HUNTER form and how did it all come together?
Bounty Hunter came about around two years ago when Riley and I were driving home from a show in Bunbury, when we were playing in Vanity together. We were listening to Megadeth " Rust in Peace" and with one of Perth's best thrash bands Battletruk on hiatus, we thought a new thrash band could fill the void they had left.
Would readers recognize the members from any other bands?
We didn't purposely set out to share or poach members from other bands. The band was a brain child of Riley and I. Cam produced the demo, wrote the bass and is an all-round fantastic musician, so that was a no brainer. I was mates with Matt and knew he was a fan of classic metal and punk rock so I thought of asking him but, it wasn't until I saw his other band cover Motorhead "Ace of Spades" and him nail it note for note at The Rosemount that I asked him to join the band.
Member sharing seems to be commonplace with a lot of Perth bands, is there a lack of musicians around to form bands with?
I don't think there is a lack of musicians however good drummers are quite scarce and hard to come by, I generally think people just want to play in different style bands, for example all the bands we play in all vary greatly to Bounty Hunter.
Does the name of the band have Star Wars origins?
It might do.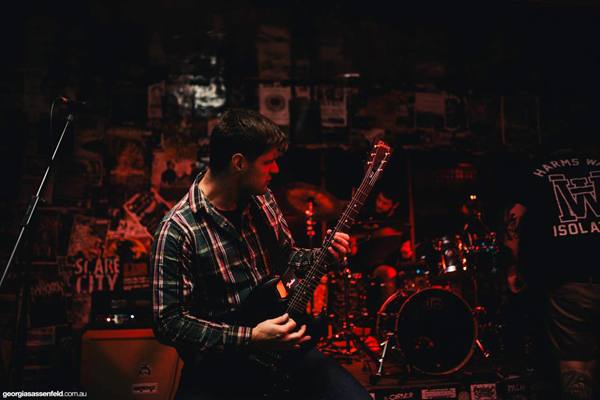 In your own words how would you describe the sound of BOUNTY HUNTER?
An honest aggressive sound with an attempt at proficient musicianship.
What bands are influencing the sound of BOUNTY HUNTER?
We take influence from all types of music from Suzi Quatro to Slayer but, if I had to narrow it down at the moment it would be Black Sabbath, Megadeth, Metallica, Pantera, Power Trip and Converge.
What would be a dream line up of bands to play with?
Black Sabbath, Metallica, Megadeth, Dio, Motorhead, Ramones, Pantera, Bad Brains and Fleetwood Mac.
Do you find being a band based on the other side of Australia is an advantage or disadvantage?
I think it has its advantages and disadvantages. It would be ideal if we could drive or fly a couple of hours to another city of the same size but we love WA and the relaxed environment. We find writing music in a relaxed environment, the best way to get the creative juices flowing, so from our perspective it is an advantage.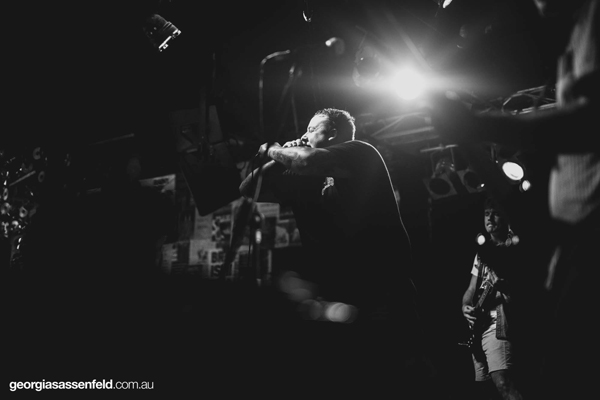 What other bands from the Perth area or surrounds you've come across, that people need to check out?
Perth currently has so many good bands Forstora, Ruthless, Idle Eyes, Losing Grip, Apollo Zen, Mindless, People Problem, Agitated, Sweetleaf and Never Settle, just to name a few.
What's in store in the foreseeable future for BOUNTY HUNTER?
We are currently recording our debut EP at the moment, the drums and guitars are done and vocal tracking starts in the coming days, after that we would like to play as many shows as possible and hopefully make our way interstate in the near future.
How can people get in touch or keep up with what's happening in the band?
We have our demo available for a listen at www.bountyhunterperth.bandcamp.com.
We have a Facebook page which we try to keep as up to date as possible with shows or anything else we have going, if not you can email us at This email address is being protected from spambots. You need JavaScript enabled to view it.