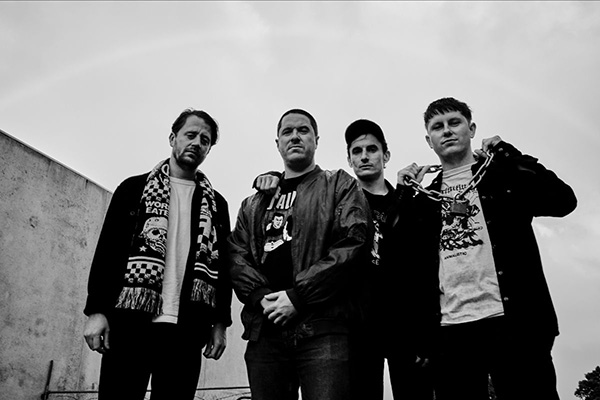 Last Ride Records are set to release a new selftitled 7inch for Perth band THE CHAIN, so we caught up with singer Tom Sweetman for a chat...
At what point did the Chain form and how did it all come together?
I think it kicked off in 2016 - Jake, Jackson and Jared had a demo written and were jamming it. Poor guys played those tracks for aaaages haha
Jackson gave me a call one night in 2017 (I think?) and asked if I wanted to do vocals. Not too long after I tracked the vocals with Cam and the demo was out
Would readers recognize the members from any other bands?
For sure!
Jackson plays in Miles Away and formerly Manhunt.
Jared plays in Miles Away and The Others (and Apollo Zen but not sure what their status is)
Jacob plays in Flowemouth and formerly the juggernaught mid-late 00s band Something More
Can't stress enough how technically and musically talented the guys are. Sometimes they go off on a tangent in the jam room playing something obscure and it blows my mind every time.
In your own words how would you describe the sound of the Chain?
Caveman music from another planet
What bands are influencing the sound of the Chain?
This is a tricky one because I personally feel like the sound is constantly evolving, but if I had to attach a couple of names I'd say Negative Approach, Think I Care and newer bands like Glue or Gag.
Our collective music tastes are quite varied so influence comes in many different ways. We recently made a playlist with a few tracks we were into that probably explain it all better that I ever could haha: https://open.spotify.com/playlist/0FPECYN1XktNqtGzD0mXon?si=f8194a6d309b40b3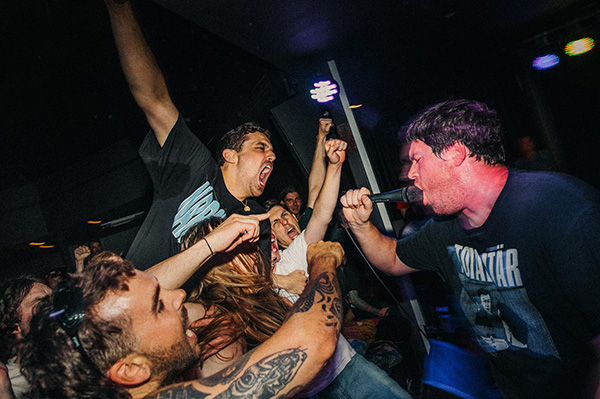 How does the song-writing process of the Chain work?
Usually Jared comes to practice with a riff or an idea and it sort of gets fleshed out in the jam room. Writing for this latest release was a bit different because we were all in lockdown. Jared was essentially demo'ing tracks in Garageband with his riffs and overlaying feedback, drums and bass and sending them to our group chat. I'm pretty sure a couple of songs even started from drum ideas Jackson had and sent through. I'd get so pumped when I saw those messages come through!
You're about to release your second 7inch through Last Ride records, any lessons learned from the first 7 inch you applied with this one?
I think the only real change we made this time around was to punch the levels so it sounded louder haha
You recorded both 7"s at Opaque Audio with Cameron Murphy, was it a case of don't mess with the formula, stick with what we know when it came to recording the new 7inch?
Pretty much. Cam knows our sound well and is a legend to work with.
The track "Burn It Down" is streaming already, lyrically what's it about?
Most of the tracks on the new release were written in lockdown so they're all quite pessimistic. Burn It Down was penned in response to the state of the world during the time (which hasn't really progressed) when people stopped accepting their circumstance or asking for change and started swinging for it. Ever notice how lush and picturesque the countryside looks after a fire?
Got a fave song on the new 7inch and why that one in particular?
Track 3 - Drag. I think it's one of our hardest songs. And that end breakdown never gets old for me!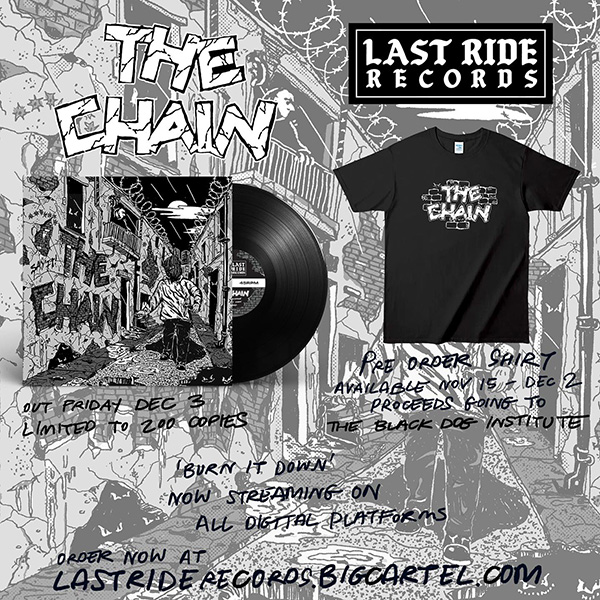 You're a designer by trade and handle all of the band's artwork, do you picture images when writing or listening to your band's music? Where's the inspiration come from?
Definitely. At one point I envisioned having a zine to go with the record with visual representations of the songs but time is tight these days. The overall band aesthetic is a reflection of all of us though; we all pool and discuss ideas. I just push the buttons to make it come to life.
Music as a whole has definitely inspired my artwork style and I like to think the unfinished edges, shonky linework and somewhat accidental textures in my work are a visual homage to that raw punk and hardcore sound haha
What else is in store in the foreseeable future for the Chain?
Touring hopefully! And more shows now that restrictions are starting to ease up a bit
How can people get in touch or keep up with what's happening in the band?
Hit us up on the gram! @sayit2mychain
Order a copy of the 7 inch at: