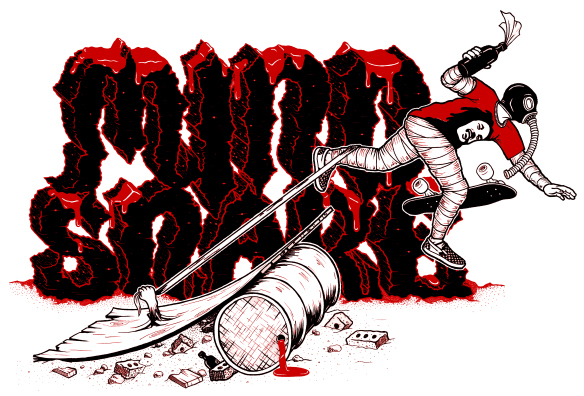 Over the past ten years, Andy Murphy aka Blood Stains has been coming up with some incredible designs for Mindsnare. He is the mastermind behind the iconic Gas Man artwork that has really helped define the band over the past decade. Andy fills us in on his love for the band and just how long it takes him to put the artwork together.
How did you first discover Mindsnare?
I have epilepsy, which has scorched my memory so it's all a little blurry for me. I was at, what I think was their first show, when they were called Mad Circle. Matt and a few other dudes lived in a house that had previously been a fish and chip shop. Mad Circle played in the shop part at the front of the house. The whole set up there blew my mind. They had a kind of concrete/lino sort of floor I think. There was a quarter pipe at one end of the room and the band played at the other end. Matt had to read the lyrics out of a notebook as he was singing. From memory they also had a half-pipe in the back yard. I remember one night we tipped a car onto its roof on the flat of the ramp and set fire to it.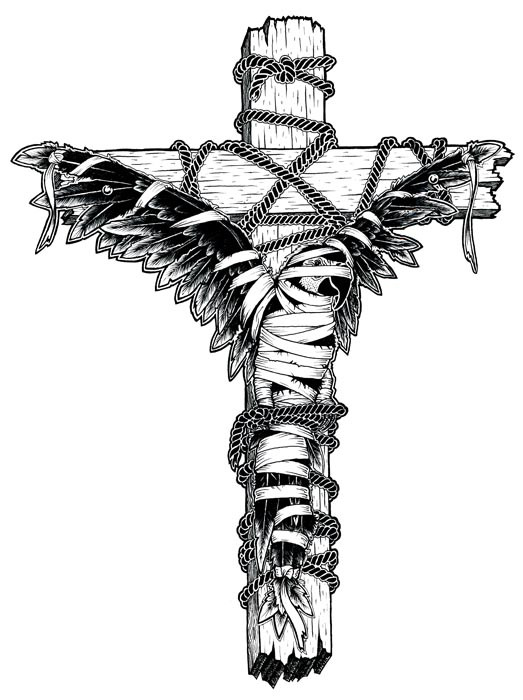 What was the first ever thing you designed for the band? And how did the partnership form?
I think the first thing that I drew for them was the mummy doing the crail slide in the graveyard. It was meant to be for a back patch. Or maybe it was the crucified parrot. I can't really remember the exact chain of events. We all used to drink a lot back then which isn't helping my recollections either. I have lived with Matt and Bomber (the original drummer) in various houses so I was always in close proximity to the band. We're all good mates. Plus Nigel used to have a house with a skate-able pool in the back yard, so I used to go around there and hassle him a bit too.
To date how many designs would you estimate you've put together for the band?
Probably not as many as you'd think. Callum Preston, Danny Young, Simon Moody and a few others have probably done more than me. I'm not exactly sure on the number but I owe Mindsnare guys a HUGE debt of gratitude. This will seem ridiculous but, in all honesty, if it wasn't for Mindsnare, I probably would not have headed as far down the path of drawing stupid pictures as I have. The fact they thought my artwork was worth using for record covers and stuff really blew my mind and definitely encouraged me to pursue it.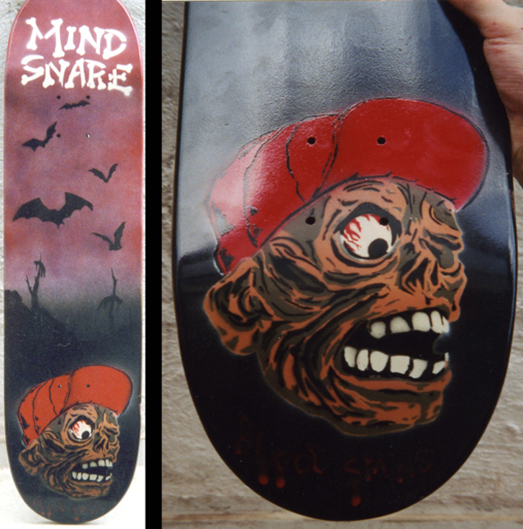 Tell us the story behind the first decks. These were hand screened right? How much of a process was that?
Matt was working for Element at the time I think, so he got the boards. I made a whole lot of stencils in the days leading up to it. We set up a production line in Matt's back yard. From memory it took three of us to do each board. I think it was my brother Mavie, who helped us. There was lots of swearing when it fucked up and lots of waiting around for paint to dry. Once they we all done each board got a few layers of clear coat. It was total DIY mission but loads of fun and we were stoked to see them all finished. Each one is totally unique.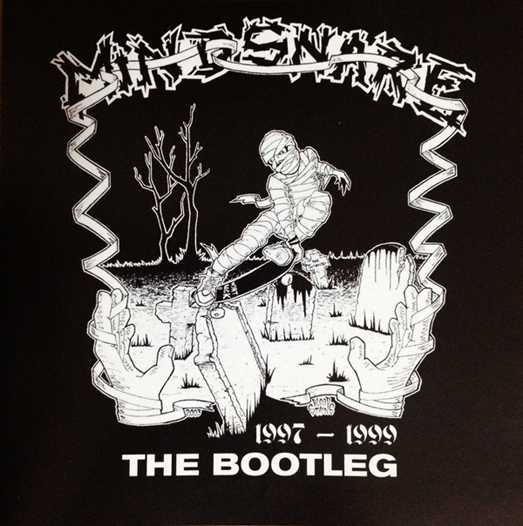 What was written on the grip tape of the mummy crail sliding on the 10 Year Anniversary / Bootleg design?
WONT BACK (It's from one of their early songs and I have a vague recollection of Beltsy talking about getting those words tattooed on his back. I don't think he did though.)
Whose idea was it to associate the Gas Man character with the band?
A Scottish filmmaker friend, Alex (Check out Macho Taildrop on Vimeo) gave me the Gas Man mask as a thank you present for letting him crashing at our place for a summer. That same weekend, Matt, Mavie and I headed north up the coast on a fucking epic camping/ skating/ surfing/ hammocking trip for Matt's 30th birthday and we took the gas mask with us. Shit got real weird and the Gas Man was born. It was one of the best holidays I've ever been on.
On average how long does it take you to draw up a design?
Usually about 5 to 10 times longer than I think it will. It really depends on what its involved. Sometimes a week or more. If I have a good idea that I'm into I'll just keep working on it till really late at night, but if I'm struggling to get it right it's much harder to stay motivated.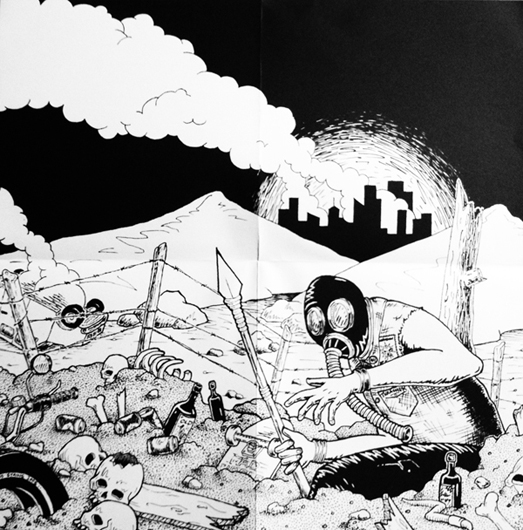 How much time went into the Gas Man cover for instance?
I honestly don't remember. Maybe a week? I usually work on this stuff after hours, so a week of nights at a guess. I work pretty slowly. I did that in two separate sections too. From memory I drew the back cover a month or so after the front cover was done. I had no idea at all how to use a computer back then so you might notice that it doesn't quite match up perfectly. I had no idea that that would end up being printed on to skateboards. As far as the colours on that one go, Matt was listening to a lot of reggae at the time so I suggested using Rasta colours just to make it a bit different to the standard black and white.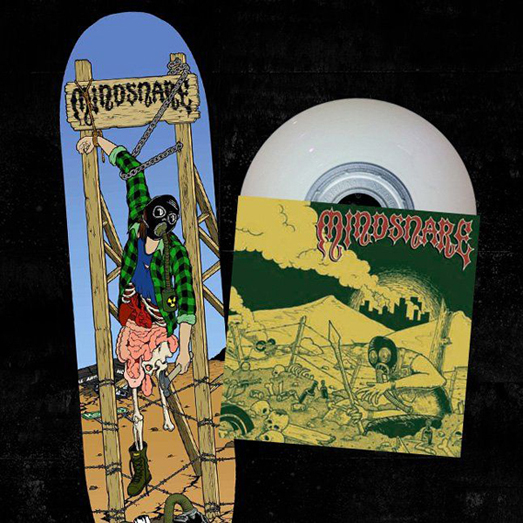 Personally what is your favourite design you've penned?
Hard to say. I think the hanging Gas Man skateboard graphic that I did is one of my best drawings, but the first Gas Man record is probably my favourite. Actually, me and Danny Young got to paint the back wall of The Arthouse right before Mindsnare played the last show there. That was ace fun.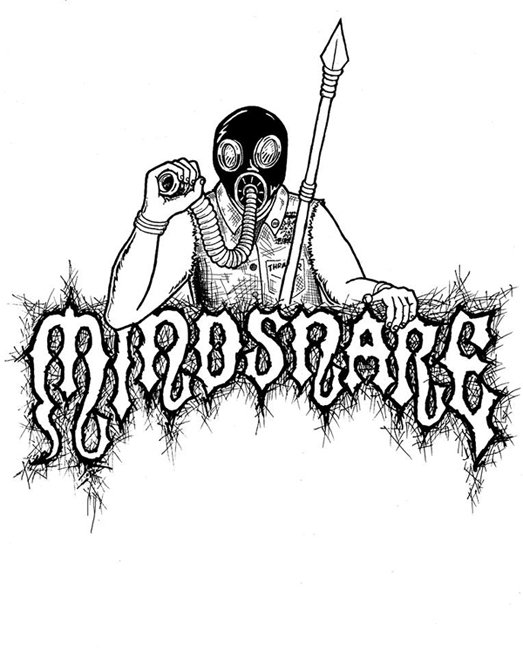 Have the band ever said no to a design or an idea of yours?
Yep. Wankers
What about a favourite Mindsnare album or song?
Favourite song - Well, me and Mavie get mentioned in Hangover From Hell, so that one definitely holds a special place for me. They have so many good songs. Lost Again and Burning Black rule too.
Can I mention favourite shows as well? Other than all the normal antics of every Mindsnare show which is always awesome, I especially remember Ralph Roturra's 21st birthday. Mindsnare just played covers. I can't exactly remember the songs but I'm positive that they played Twisted Sister's "We're Not Gonna Take It." I think they played some ACDC and Minor Threat amongst others too.
There was another occasion when Beltsy unexpectedly pulled up out the front of my house in this old red Holden Hot Rod that he used drive. It was Mavie's birthday and there was a whole crew of us getting wasted in the front yard. Beltsy waved for Mavie to come and get in the passenger seat, then he pulled out an acoustic guitar from the back seat and sang "Mavie Mavie Its A Wild World" to the tune of the Cat Stephens song of a similar name. It was fucking epic. Mavie was so moved that he cried.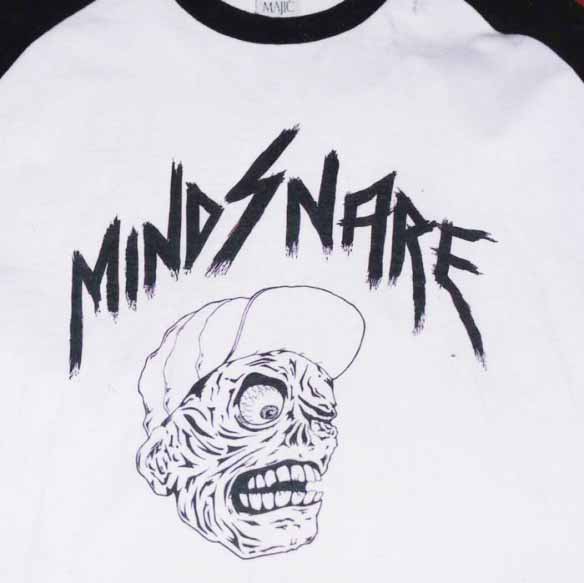 If you had to classify your style of art, what would you label it?
Hand drawn illustration I guess. Is skate art a category? All my favourite artists either do skateboard graphics or band merch. So hopefully it falls somewhere in that realm.
How can people get in touch if they are after a design for their band or label?
Below is Andy's latest design for the band. Matt asked him to design something based on the Harley Davidson logo. You can pick up one of these shirts at the Anniversary shows below.
*The Anniversary poster was drawn by Danny Young.