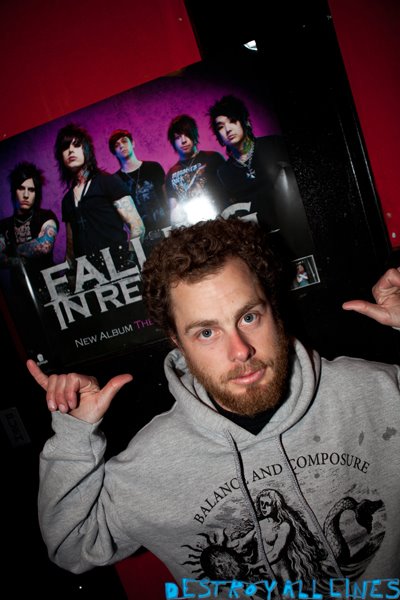 Fires Of Waco frontman, Allan Reid delivers his top five releases from the LiveWire Records catalog.
Livewire Records, being a fairly inactive label for the most part, have managed to release a large portion of my favourite bands and a stack of great records. When Ryan asked me to write a small piece about my 5 favourite releases from a particular label I was drawn to Livewire as Damage Control's "What it Takes" LP is one of my favourite releases of all time, and in my opinion Livewire's best. So I'll get started with DC….
1. DAMAGE CONTROL – What it Takes
I remember picking up a copy of Livewire Records second sampler around 2002/2003 and being blown away by all of the bands included. There was a live track from Bold, a blast from the past in Mouthpiece's "Cinder", a touch of post hardcore in Kill Verona and The Trash War, and the introduction of The First Step, Face the Enemy and Damage Control. Although Damage Control had previously released a seven inch on German label Crucial Response Records, this was my first taste of what they had to offer. Damage Control fused the intensity of Youth of Today with the melody of Uniform Choice, and had a definite Euro vibe going on. I later found out that the band was made up of veterans of the Oslo City hardcore scene (from bands such as Onward, Sportswear, Rectify) and included Daniel Frankowski from Germany (Eyeball, Spawn) and had been a partial continuation of the force that was Sportswear. The track on the sampler was a pre production recording of the "Addiction" which was later released on Damage Control's debut LP through Livewire Records.
I remember talking to a few friends who were wise with European bands and getting a bit of a vibe for what to expect from Damage Controls other songs. Needless to say I was excited, but shopping for records had become more of a case of opportunity over the hunt so I put What it Takes on my "records to watch out for" list. Sometime in 2005 I was on tour with Just Say Go and had my mate Crispy hand me a record while in Missing Link in Melbourne, and tell me I should check it out. The record was of course What it Takes and the rest is history. This LP oozes melody with massive bursts of energy that have had me hooked from the first listen to this morning's refresher on the band that Damage Control were. Great band. Great record.
2. INSTED – Live at CBGB's
I remember sometime in the late 90's, my parents had just bought a computer and I had started to fall totally in love with hardcore. I didn't live in a town where there was really a "scene" and any hardcore kids that did frequent the same social circles as I did were into Madball and Raised Fist and that was about it. Unfortunately listening to only 2 bands didn't do it for me, so the search began. At first mail-order catalogues were my source for new bands to check out, but soon after the internet was installed I discovered the free download samples that bands and labels would include on their sites and a whole new world unfolded. It was around this time that I first heard Insted.
The first Insted song I heard was "Feel Their Pain" which is the band's vegetarian anthem. There was a passion in the song that had me hooked. For some reason I thought "this singer must be huge!" and had an image in my head of a staunch hardcore dude, ready to defend animals rights to the death. Obviously at this point I hadn't heard Earth Crisis! The more I looked into Insted, the more I realized how wrong I was. Insted played hardcore that was more passionate than hard, and for the most part a band that projected positivity in every direction possible. Insted seemed to draw more parallels to 7 Seconds than the Cro Mags and had a sound and energy that was a slight tangent to other bands that I had heard from this era of hardcore. It wasn't long after this introduction to Insted that I got my hands on the "We'll Make The Difference" seven inch and "What We Believe" LP, and to say I felt a connection the bands ideas would have been a major understatement.
Sometime around 2004 I started to hear rumours of an Insted reunion and possible tour. This was before bands from the past started getting back together week in week out and touring the world, so to me this was great news. I felt like there may have been a possibility that Insted would tour Australia and I'd get to see them tear a stage apart in Brisbane. I remember being excited and picturing the band playing live at a local venue with hundreds of kids piling on and going nuts. Naivety huh!
Insted's "Live At CBGB's" LP was recorded during one of the bands reunion shows at NYC's revered CBGB's and is said to be the closest experience to actually seeing the band that a fan can have. I'm not a big fan of live recordings, but this record is great. The sound is well balanced and fairly clear, the energy of the crowd comes through and the songs hold their value. While travelling around Europe in 2008, I met a stack of people who caught Insted on their 2006 European Reunion Tour and all of them guaranteed me that of all of the old bands reforming and touring, Insted's was the most sincere and honest. I still put on this record, and imagine a local venue full of hundreds of kids singing along, piling on and going nuts for Insted. For me, that is the magic of Insted.
3. THE FIRST STEP – Open Hearts and Clear Minds
Through my little searches for "youth crew" bands I had managed to stumble across a small scene in Carolina that produced a few interesting bands. Two of those bands were Until Today and Reinforce. Until Today were high energy hardcore with a positive vibe but not too cheesy, while Reinforce were extremely cheesy and had a real Seven Seconds meets Good Clean Fun delivery. Not long after discovering these two bands, I read somewhere that they had broken up and a few members had gone on to start something new. This was the first I had heard of The First Step.
Shortly after hearing about The First Step, I managed to pick up a copy of the CD version of Open Hearts and Clear Minds which was made up of the Open Hearts and Clear Minds EP, the band's demo and a live recording. Open Hearts and Clear Minds opens with a track that soon became one of the band's early anthems. To say that the impact that this song had on me was immediate would be an understatement. The First Step fused the energy and intensity of Youth of Today with the song writing qualities that made Insted's What We Believe a classic. There were hints of the cheesy slogans that had been a big part of Reinforce but without the tongue in cheek vibe. The First Step seemed to have come with a plan and executed it perfectly. Open Hearts and Clear Minds had everything a hardcore record needed; energy, message, passion and camo cargo shorts.
After a short break and a bit of a reshuffle in the line up, The First Step released their debut LP What We Know and continued to deliver inspiring youth crew anthems. The First Step also released the Connection EP in 2008. Both of these releases saw the band find new levels in terms of song writing, delivery and lyrical content, but for me, Open Hearts and Clear Minds will always be a special release as it was my introduction to one of the most intense bands of my time.
I was lucky enough to catch The First Step during their final European tour before they returned to the States and planned a final show. After the 4 shows that I was able to attend, I felt like I had seen something really unique and rare. Simply amazing.
4. RUNNING LIKE THIEVES – The Approval of The Crowd
Over the years, I have managed to come across a few hardcore musicians who really stood out from others for their own reasons. For example; Ken Olden for his crunchy guitar sound that worked in an uncomfortable kind of way, Luke Garro for his technique as a drummer which gave his bands an unbreakable rhythm section and Mike Judge for….well…he's MIKE JUDGE! Two of the musicians that really stuck with me were Matt Warnke for his vocal delivery and style on the later Bold records and John "Biv" Biviano for his unique approach to playing guitar for Supertouch. Running Like Thieves was the process of a long search by Matt Warnke for people to form a band that would break the mold and create something fresh. Alongside Warnke and Biviano were Andy Guida on drums who also played for Supertouch and Scott Heatherly on bass. Having members from 2 of my favourite New York Hardcore bands meant that this band was bound to draw me in.
The first time I heard Running Like Thieves was once again, on the Livewire Records Sampler Volume 2. The track was called Shed This Skin and stood out from all of the other tracks on the sampler as being a lot more hard rock/post hardcore sounding. When I finally got my hands on The Approval of the Crowd I found that not only were Running Like Thieves different to the bands on the sampler, but stood out from almost every hardcore band I had heard up until that point. Running Like Thieves were producing a really fresh sound and I remember having mixed emotions when I first heard the 4 tracks on this EP. There was a sadness which was mainly from the melancholy in Warnkes vocals and lyrics. There was a curiosity and excitement about what Biviano was playing on guitar. There was a sense of discovering something brilliant with the song structures and tempos.
All in all, Running Like Thieves was a whole new experience for me, and for that reason, The Approval of the Crowd has remained one of my favourite records. I have since searched out more bands containing the members of Running Like Thieves, and needless to say, they are great, but few have come close.
5. THE KILLING FLAME – The Dream Dies
When you mention "Orange County Hardcore" to hardcore enthusiasts, a lot of them come up with either Ignite or Throwdown as the first bands that come to mind. For others it is a scene with a rich history and a unique batch of bands that forged their own sound and made an effort to carry it through the years. For as far back in my hardcore interest as I can remember, the Orange County Hardcore scene has been a particular point of interest for me. The characters that were involved in the OCHC scene in the early days produced some great bands and stories to go along with them. Everything from the antics of the Sloth Crew to the likes of Joe D Foster who jumped in and out of the scene while pursuing a modeling career in parts of Asia and Europe. Along with all of this comes a sound that is typically known as the OCHC sound. This sound has reincarnated a number of times but sadly seems to be slowing down and fading out. Where do the Killing Flame fit into all of this? This band, in my opinion, is possibly the final statement from some of the early OCHC scenesters to preserve the sound of the original OCHC scene.
The Killing Flame fused the melody of the likes of Unity and Uniform Choice with the attitude of NWA and somehow made it work. Vocalist Joe Nelson has always stood for me as a frontman with attitude. Although this sounds like it could be a turn off, it is actually what makes the band work on a higher level. Through his years in the hardcore community, Joe Nelson has gathered a few interesting tales to tell and The Killing Flame was a forum for sharing those stories.
The Dream Dies if the band's third release and debut release on Livewire Records and showcases the bands knack for mastering the Orange County sound with bursts of originality. The 4 tracks on the seven inch are high energy and riddled with energy. Lyrically there are really interesting twists and turns that steer clear of the standard hardcore terminologies and slogans, without straying so far that there are no ties back to the band members roots.
Sometimes "all star" bands can tend to be a let down as expectations run high. Having a band made up of members from bands such as Ignite, No For An Answer, Triggerman, Unity and Speak 714 could easily push expectations beyond reality, but the Killing Flame go beyond expectation. This band has always been on of my favourites, and The Dream Dies is a great example of why.
Allan's very impressive collection of different versions of Damage Control's "What It Takes" LP.