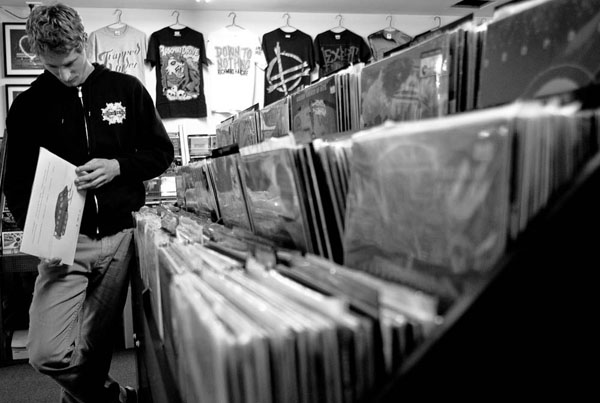 Formed back in 1993, Swedish label BURNING HEART is responsible for launching some of the biggest punk and hardcore bands of the 90s including Millencolin, Refused, Raised Fist and Satanic Surfers to name just a few. Homeward Bound guitarist, Shaun Warren breaks down his top five releases from the Burning Heart catalog.
With this list, I have tried to stick with actual Burning Heart releases & not the European Epitaph stuff that Burning Heart handles these days.
59 TIMES THE PAIN – Twenty Percent Of My Hand (BHR052)
59 Times the Pain's second album is still one of my favourite 90's hardcore albums. For me this album is hardcore punk at its best. I still get psyched on 59's guitar sound on this recording. I remember back in 1999 with a fake id, sneaking into Caringbah Bizzo's on what turned out to be their final Australian tour.… I was was lucky enough to score a signed setlist, I was so stoked!! After this release though 59TTP really started to go downhill, as the next two albums were pretty average indeed.
SATANIC SURFERS – Going Nowhere Fast (BHR 088)
It would be impossible to leave this band out of a Burning Heart Top 5. Six quality full lengths, a couple of EP's and splits from back in the day, with arguably the most talented singer / drummer in the business. I remember thinking this singer has such a good voice & wow, how good is this drummer? Only to later find out it was the same guy! An album chock full of well written songs with intelligent, politically motivated lyrics speaking up for workers' rights.
SAMIAM – Astray (BHR 119)
I'm pretty sure this album was also released on Hopeless Records but my copy is on Burning Heart, so that's why it's in my top 5! I first heard Samiam way back in the day as a youngster, but since it wasn't that typical Burning Heart fast punk, I didn't really get it. For years I just kind of brushed Samiam off. Looking back now, I regret this as I now regard "Astray" as a classic record. Tracks like "Super Brava", "Calloused" & "Mexico" bury themselves in my head to the point where I end up listening to this album on a very high rotation. As with all Samiam albums, there is a bit of filler, but the good tracks are just that good you tend to forget about the average ones.
REFUSED – The Shape of Punk to Come (BHR071)
A big change in sound from previous releases, I guess a lot of Refused fans at the time must have been thinking "what is this all about"? "The Shape of Punk To Come" was definitely a very arty release and very different to what was going on at the time, but once people worked it out, it pushed Refused into a whole new regard as a band. Refused have possibly become a more popular band since their premature split mainly due to this release. Great album that really re-wrote the book on the modern day punk hardcore sound.
MILLENCOLIN – Life On A Plate (BHR 033)
While "Pennybridge Pioneers" is probably the most popular Millencolin release, unless you listened to Pantera & Slipknot, "Life On a Plate" along with No Fun At All's "Out Of Bounds" were the soundtrack to any "teenage skegs" upbringing back in the mid 90s. Listening back now, some tracks are pretty cheesey, but others like "Olympic", "Buzzer" & "Bullion" are still really great songs. No surprise this band is still pretty popular today.
Picking just 5 albums is a pretty hard task, so here are few more that really deserve a mention...
Raised Fist – Stronger Than Ever
No Fun At All – No Straight Angles
Breach - Venom