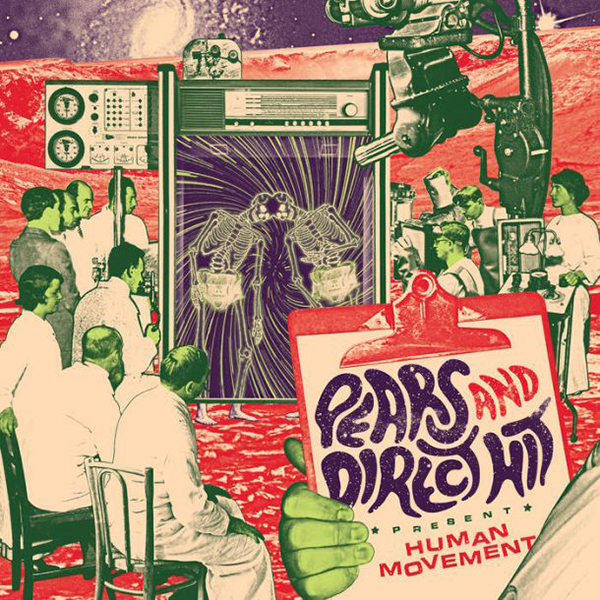 On November 3, FAT will release Human Movement, a split album from Direct Hit and PEARS. This 12 track scorcher features five new songs from each band, plus one cover of their counterpart's material. You can get your first taste today! Just pre-order the album from iTunes or Bandcamp, and you'll get an instant download of a song from each band. We can't wait for you to hear Direct Hit'slatest single, "Blood on Your Tongue," a song oozing with sugarcoated pop melodies. Then, strap yourself in and listen to a brand new PEARS track, "Arduous Angel," layered with soaring choruses and punchy hooks. Both songs are premiering on our YouTube channel. You can also pick up Human Movement at our European webstore and our Australian webstore. Or grab the awesome skateboard in our webstore! For more on the release, check out what front-man Nick Woods from Direct Hit, and Brian Pretus from PEARS had to say about joining forces:
Nick Woods: "We're really proud of how this record turned out, not only because all the tunes on it are rippers, but because we got to collaborate on it with some of our best friends. Splits like these rarely work with everyone involved playing to the others' strengths. I'm really glad the stars aligned here in a way where the whole thing came together as a unified release, from one of the coolest record labels in the biz right now."

Brian Pretus: "We've been talking about doing this for a long time, since like one of our first tours, which was with Direct Hit. It's pretty surreal that we finally got to make it happen, and I couldnt be happier with how both sides of this thing turned out."

PEARS and DIRECT HIT have released covers of each other's songs that will be appearing on their upcoming split release, Human Movement.