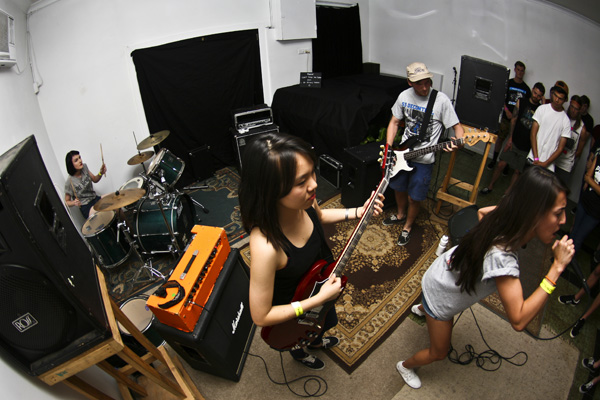 FIRST FAILURE Interview by Allan Reid with vocalist Shannon Pilkington

The Sunshine Coast region, an hour or so north of Brisbane, has spawned a handful of great hardcore bands recently after a long drought. First Failure has emerged as one of the more notable bands from this new crop of Sunny Coast hardcore kids. After a staggered start, the bands have found their feet and are making a steady dent in the local hardcore community!
How did First Failure come together and what was the plan in starting the band?
Carmen, Shannon Lake and Rylea started First Failure. I was quite shy and didn't know them too well at the time but thought they were lovely girls and respected what they were doing. They were looking for a vocalist, and to be honest, I thought I'd never be the one to sing in a band. After a while, I said "I'll do it if you can't find anyone else" and they immediately took me on-board without giving me the chance to hesitate. It was the best thing for me at the time because I didn't have the confidence to do anything without a good shove. From it I became close to the people who are now my dearest friends and discovered my love for, not only listening to hardcore, but also making it! We started out purely for fun and friendship and didn't dream of making as much progress as we have now. After a few shows, with three dodgy songs that were written and recorded in one day on a mobile phone, we realised that if we put our heads down and worked hard we could become a band as good as any other and leave our mark in our local scene. We pulled together a proper demo and played some amazing shows and there is only looking forward for us from now on! More songs, more releases and more shows.
Who would you cite as major influences for the band musically and in attitude?
There are a few bands that we all share the same love for and who influence us in some way. These include Gorilla Biscuits, Uniform Choice, DYS, Floorpunch, FMD, 7 Seconds, Turning Point, Judge, Bold, Warzone, Cro-Mags, Negative Approach and more. As you can see, it is a real mix. We are beginning to write new music and we will be undergoing a few changes. We will be refining and narrowing down our sound and influences.
First Failure have gone through a minor line up adjustment recently. Who has left, who has joined, and how has the change affected the band?
Sadly, our bassist Rylea had to leave because the band was too much on top of her busy schedule. Reid Baker (from Sick People and Menace To Society) has been filling in on bass for us. Reid has made a really positive impact on our band. He ignores the fact that we are girls and that anything we do is a positive thing for hardcore. Instead he sees us as a band just like any other and pushes us to improve. He has helped us to achieve a new mind frame. We are feeling positive, focused and ready to push forward to write and play the best music we can in the future.
If you were to describe the sound and attitude of First Failure to someone who'd never heard the band, what would you tell them?
We've been described as "Uniform Choice on helium". I was very flattered by that description but how could we compare ourselves to such a band. Summed up: we are a simple, moderately paced, hardcore band composed of a bunch of angry teenage girls (minus the boy and fashion problems-to an extent). Our attitude? We are positive people but we don't ignore what is going on around us that we believe is wrong and in need of change. Hence why we have something to write music and yell about.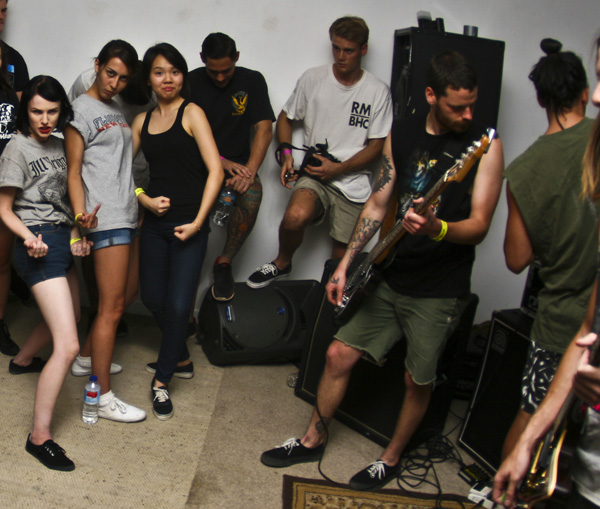 First Failure have recently supported Miles Away and Punch on their respective visits to Queensland, how were the shows and what was the response like?
After all of the nerves, hype and excitement we didn't end up playing our best set at the first Punch show. It was a great night despite being slightly disappointed with our own set. All of the other bands were great and we really enjoyed the rest of the night. Determined to play a better set the next night at the Brisbane Punch show, we didn't disappoint ourselves. I even calmed my nerves enough to notice people smiling, tapping their feet, nodding their heads and enjoying our set. It was such a great night; in fact it was one of the best shows we have experienced in quite a while. All of the bands played awesome sets and there was such a positive vibe! And the mighty Punch blew us all away.
The Miles Away show we played has got to be one of the best shows we have experienced as a band. It started out as a complete disaster (maybe I am exaggerating-females are a dramatic species after all ha-ha). Gear was forgotten and missing, traffic slowed down the rest of it and we were stressing out of our minds. We finally pulled it together and played our set. We received a positive response despite playing a little bit late and being the awkward opening band. We learnt so much from this show. We learnt what it was like to organise and supply gear (with a lot of help from Reid and our friends who leant us equipment), we learnt what it was like to play with some of our favourite bands and we learnt that hard work pays off! After our set we got to experience The Others for the first time and we loved them! Then Cruel Hand played and it went off. It was the sweatiest and most enjoyable set I have seen a band play. Then the mighty Miles Away played! I was blown away. After ten years they are still making music that inspires bands like us to keep writing music and playing shows. I think I rediscovered my love for hardcore all over again that night!
First Failure spawned from a surge of Sunshine Coast bands who've made their own moves in the hardcore scene over the last few years, is there something in the water on the coast? Where did the recent run of bands and hardcore kids come from and what do you think led to the handful of young bands/hardcore kids emerging from a pretty quiet area?
The Sunshine Coast is very spread out and we don't get to see each other often. So when we get the chance we make the most of it. Just like people from the city, we are passionate about hardcore and any chance we get we jam like crazy. Coming from a quiet area isn't going to stop us from making and playing the music we love. It's only a short wait until we get to see or play shows in Brisbane, which is just a few hours away. It even adds to the excitement of finally making it down there! I guess it would be a similar case for the other bands that have emerged from the Sunshine Coast too.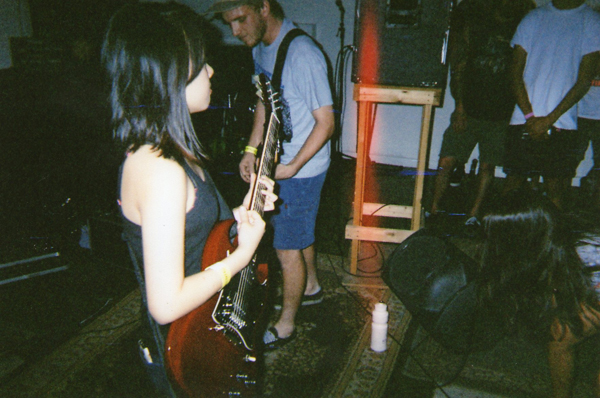 If you could sum up the message that you'd like to present as a vocalist in a hardcore band, what would it be?
Don't be ignorant to issues around you. Speak up and act up. No changes will be made unless you make the effort to make that change. This opinion or view of mine was really put to the test when I joined an all female band. Many females are quick to jump to the assumption that males will be unsupportive of women in hardcore and in bands. This is because it is a very male dominated music scene. It is still very different and unusual for women to be really involved in hardcore. First Failure came about as four girls wanting to get involved and wanting to be heard. We put in that effort and we achieved so much. We also realised how supportive men in hardcore can be to women getting involved in the scene. So if you're a female and you've been afraid to get involved in your hardcore scene, don't be! Speak up and act up. Give it a shot and see what impact you can really make.
First Failure is made up of mainly female members. There seems to be a rise in the number of females taking part in hardcore and shaking the "wallflower" tag. How do you feel being an almost all female band has affected First Failure, if it has at all?
Females are getting sick of standing on the sideline like we are expected to. We are starting to act on the want to play in bands and we are getting the results we want. No one is stopping us and it is so rewarding. Although there has been an increase in female members in hardcore bands, an "all-girl-hardcore-band" isn't yet something you come across everyday. To be honest, I think we have benefited from it. It's something different and people seem interested. Most people are happy and excited that girls are getting involved and want to support us. I'm suspicious that some of the shows we get put on have something to do with being an all female band, but we are still incredibly grateful to be given these opportunities. They help us to learn and grown and we do everything we can to prove that we are deserving of them. Hopefully we are also inspiring more females to join bands. If we can do it, any other female with a passion for hardcore music can!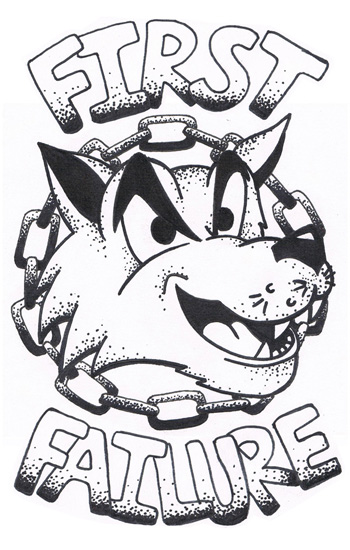 Your demo was pressed to tape a couple of weeks back, what is the info on the demo and how can people go about grabbing a copy?
We sold out of the tapes that we were selling on Edge Day, which was so rewarding. But there are more!!! They will be up on some distros very soon. The details will be posted on our Facebook page http://www.facebook.com/firstfailurehc and on Rain On The Parade Records' Facebook page http://www.facebook.com/rotprecords
If you could play a show with 5 bands, past or present, hardcore or not, what would your dream line up be?
I couldn't think of a harder question to answer! I'm going to keep this as a simple list, otherwise I'll keep changing my mind and trying to weasel another one or two in there.
1. Gorilla Biscuits
2. Floorpunch
3. Judge
4. Negative Approach
5. Cro-Mags
Lastly, what are the plans for First Failure in the near future?
As soon as Carmen (our guitarist) gets back from overseas we are going to continue refining our sound and writing new music. In the near future, after we finish writing, we will be recording our new stuff to share with you all. We will be playing as many shows as we can!