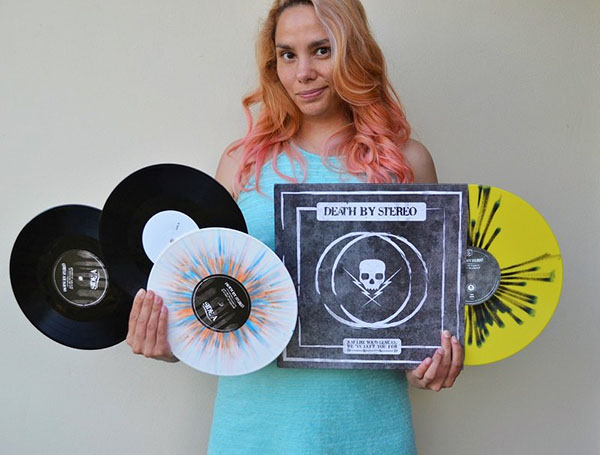 Bianca Valentino is a Brisbane based fan of a number of differing genres of music, making for a very interesting collection. Currently working on her first book "Conversations With Punx", Bianca has been interviewing bands for what seems like forever for her own fanzines and music publications. Take a peek into Bianca's collection..

Name: Bianca Valentino
Current Population
7"s: 775
10"s: 51
12"s: 2,055
Test Pressings: Death By Stereo – Just Like You'd Leave Us, We've Left You For Dead. Regurgitator - Unit, Tu-Plang, Mish Mash, Self-titled, New, Dirty Pop Fantasy. Professor Griff & the Last Asiatic Disciples – Pawns in the Game.
First Born:
I inherited a bunch of records from my big brother as a teen, including: Circle Jerks – Group Sex, T.S.O.L. – Dance With Me, Suicidal Tendencies self-titled, Dead Kennedys – Fresh Fruit For Rotting Vegetables, and D.R.I – Crossover. The first record I bought myself though is, Mindsnare – Credulity; I got it at their show when it came out in the '90s.
Latest addition to the Family:
Secret Chiefs 3 albums – Book M & Traditionalists Le Mani Destre Recise Degli Ultimi Uomini (green & black splatter). Rihanna – Anti (deluxe edition; double white vinyl that comes in some of the prettiest packaging I've ever seen, it comes with lithograph photos too). Deltron 3030 – self-titled. X – Under The Big Black Sun… & more. I went on an annual pilgrimage to a 4-day record fair at Brunswick Head on New Year's Eve Day. A box of records from one of my new favourite labels, FDH Records, arrived recently (they had a massive vinyl sale) with awesome releases by Doctor Scientist, Videodrome etc. (I heart my synth punk!). My husband also just got me Crystal Fairy's limited edition 12 inch, only 150 copies made with a 3-color silk screened sleeve Haze XXL original linocut design!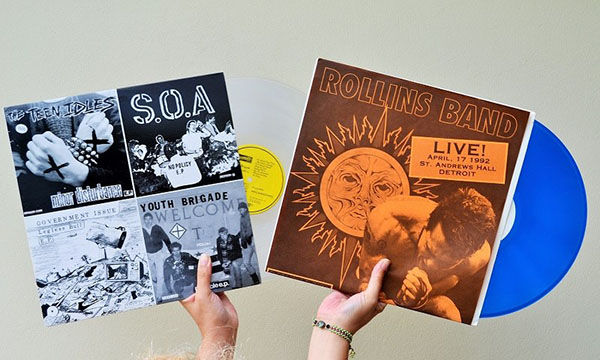 The Pride of the Fleet:
I love my CSS – Let's Make Love And Listen To Death From Above blue square vinyl. And, Melvins featuring Teri Gender Bender – Rebel Girl (it's one sided with a screen print directly onto the record). Mystery School – self-titled (this is my husband's record, I was so stoked for him when he finally got to realize his dream of putting his music on a record). DFL – Tony's War and Proud To Be… Common Rider – Last Wave Rockers. Death By Stereo – If Looks Could Kill I'd Watch You Die. The Julie Ruin – self-titled. Spinnerette – self/titled. The Units – Units 7". I treasure most records my friends/family make. I have A LOT of favourites! I could keep going… ha-ha. I really love Bad Brains' Rock For Light.
The Hen's Tooth:
Magic Dirt – Young & Full of the Devil (only 300 copies made). Queens of the Stoneage – Songs For The Deaf (red Ipecac version). Lovage – Music To Make Love To Your Old Lady By. Germs – (G.I) (first US pressing). I guess it really depends on what your definition of rare is? Hard to get? In limited quantity? I have many records that only a few hundred copies were made.
Not Cheap:
I don't like to pay stupid amounts for records, there's more fun in finding something for a good price out in the wild than it is just dropping a bunch of money on a record. Maybe the most I've spent on a record is something like $70 for Hole's - Live Through This, that's a great price though, it usually goes for more.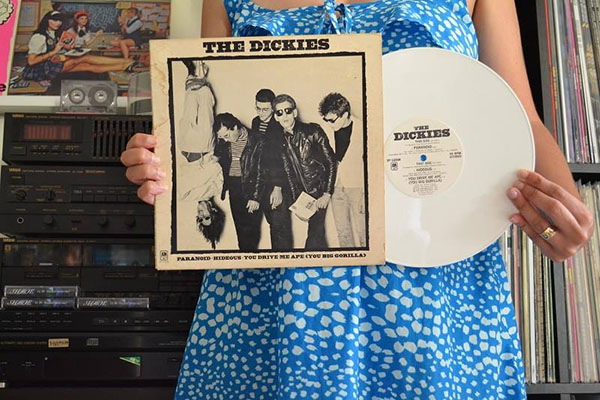 White Whale:
I'm not really chasing anything (that I can think of right now). My husband and I swap lists of records we'd like and when a gift giving occasion comes up we usually get each other something from the list. The thing I'm always chasing though is new music, I'm always of the mindset that I'm yet to discover my all-time, all-time favourite band or album. I actively seek out new, or old new to me music, every day. There is so much amazing music in the world! I wouldn't mind getting my hands on a copy of Dan The Automator's A Much Better Tomorrow.
A lot of the albums I want on vinyl don't exist on that format because they were made in the '90s and compact discs were all the rage! My fingers are crossed Blister will put out a vinyl reissue of one of their releases for their reunion shows in March. Oh and in case you're interested, one of my most anticipated record releases of the year is '90s Gold Coast band Fur putting out their first EP, Find What You Like And Let It Kill You on vinyl for the first time ever, it'll be on Conquest of Noise Records—they do pretty rad stuff by the way. I never thought I'd see FWYLALIKY on vinyl! A few weeks before I found out it was happening, my husband and I were talking about CD only releases we wish were on vinyl and that was at the top of my list… dreams do come true dudes!
Why Did I Trade That:
I don't really trade records and I don't really sell them either, I buy what I love so why would I wanna get rid of it? That said though, I have often given records away to friends that come visit, flick through my collection and find something they really, really love. You can tell when someone is genuinely really passionate about a band/record! Seeing the joy on their face is enough for me to part with a record.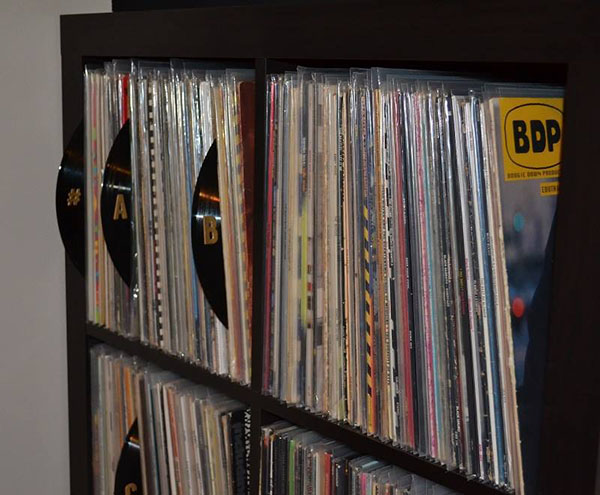 Are you a completest or collector of any band or label in particular:
I have almost every record my friend Teri from Le Buctherettes/Bosnian Rainbows has put out, only one I don't have is her latest project, Crystal Fairy 7". My collection has merged with my husband's since we got together, so it's pretty completest in regards to the Ramones, Dead Kennedys, The Clash, PJ Harvey, Rancid, Regurgitator and a few others. I'm yet to meet someone with a better Ramones collection! We have quite a few multiples too.
How do you usually acquire your records?
Mostly shows, record fairs, garage sales, shops and lastly, the internet.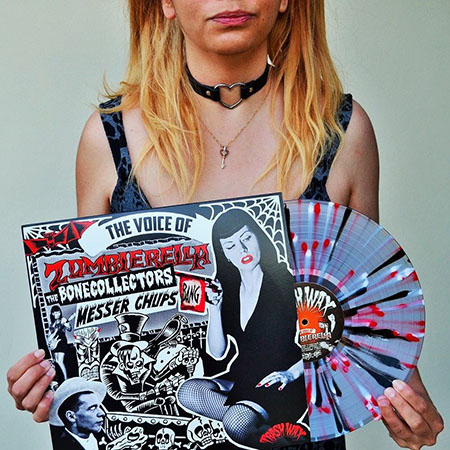 Most memorable experience acquiring a record?
The most memorable experience/s that I can think of is when I used to go with my big brother, Barrie, to the record shops when I was a kid and he'd pick up his import punk and hip hop records. He'd buy stuff like Ice-T - Power, Public Enemy – Fear of a Black Planet, DRI – Crossover, Suicidal Tendencies – Art of Rebellion, Youth Brigade – Sound & Fury… I was lucky to have a bro with great taste in music. I have three older sisters too, that all loved different music and got me into all kinds of stuff early, The Beatles, Led Zeppelin, Dean Martin, The Cult, Bob Marley, Johnny Cash, the Acid Jazz genre even (ha-ha)… there was always music in my house growing up.
Also, really anytime I go record shopping with my husband… he is a walking encyclopaedia of music and record knowledge…he knows the pressings, the labels, the fun facts like stuff about the recording process, he's a gun at picking samples on hip hop records! He is the only person that I've met that has taught me more about music and art than I have them!
I have a copy of Black Flag's Six Pack 7 inch that my friend Franklin (Rhi) from Shelter/108/Crown of Thornz found on the ground at an airport while in transit on a tour that he gave me.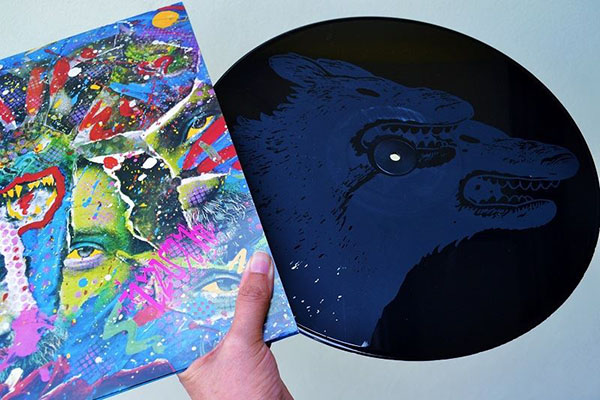 Represses. Do they devalue collections or add to them? Do you fuss over the press of records?
At the end of the day, it doesn't really matter too much what pressing something is, sure it's nice to have an original/first press but sometimes the only way I can get a copy of a record is to buy a reissue. Ultimately beyond pressing or if a record looks pretty (coloured, splatter, swirl, haze, a fun shape et cetera) it's the music that's on the record that counts the most. Sometimes when they reissue something they remaster it and that irks me a bit, they rarely make it sound better, sometimes they remaster all the soul outta it.
Autographed records. Do you own any and do you think it makes them more valuable?
I do. Suicidal Tendencies – self-titled. Bjork – Homogenic… they're a couple that come to mind right now. I have an extensive collection of signed music memorabilia.
Guilty pleasure or secret shame:
Ha ha I don't really have guilty pleasures or secret shame when it comes to music, I like what I like. Why should someone feel guilty or shame for liking something? I'll admit to it all.
What's the absolute limit you would ever pay for a record?
It depends, while I don't like to pay ridiculous amounts for records as I mentioned earlier, I could be swayed if it was something truly special… I'd pay more for something that has handmade art or a screen-printed cover. I'd pay more to buy it directly from an artist.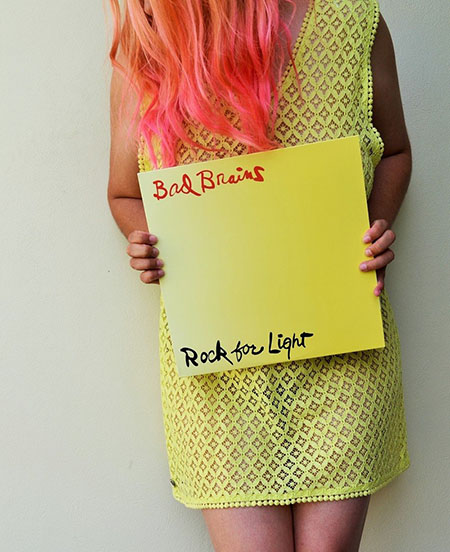 Best tip you can offer a potential collector?
If you're buying second hand, make sure you check the record before you leave the shop. I got stung for a P.I.L. record once that had the wrong record inside; I only realized when I got home! And don't listen to people that are trying to sell you second hand records whether it's in a shop or car boot or garage sale, when they tell you something is 'rare' in 'mint condition' stuff like that… check for yourself! Not every Beatles record is 'really rare'!! They pressed so many of them. Buy what you like! Don't buy something for an investment… AND most of all please don't be a flipper [insert dolphin noise here], I loathe people that buy records just to jack up the price and sell straight away… especially when something is limited edition, by you doing that, someone who is really a big fan of the artist may miss out.
Are record collectors all really pretentious arseholes?
Ha ha I love Poison Idea! Ummm… yes, some are. Just like with anything in life though, like people being jerks, some people are, some aren't. That choice is yours. Personally I like to keep things posi and continually cultivate an attitude of gratitude. I'm thankful I even get to buy records, there was a period in my life where I was broke and didn't really have anywhere to live let alone afford records… I'm thankful every day I'm surrounded by so much amazing art—music to suit my every mood and every occasion.
If you wanna know more about me or follow my record collecting adventures you can find me at conversationswithbianca.com / IG: @conversationswithbianca / FB: facebook.com/conversationswithbianca